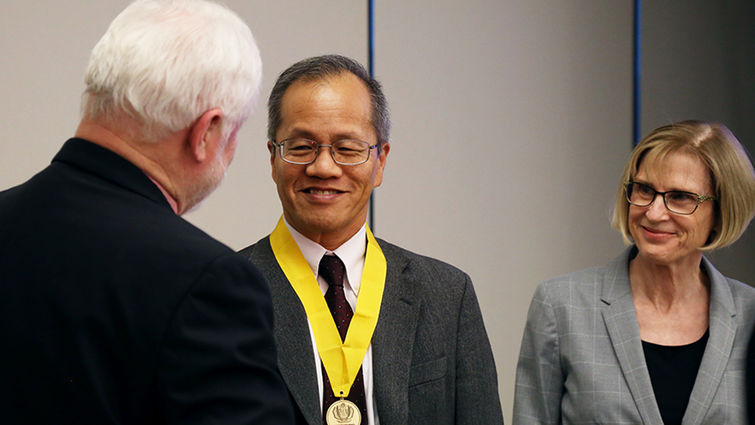 Lawrence Loo, MD, was announced as winner of the 2018 Kinzer Rice Award for Excellence in University Teaching during a special ceremony last month on the campus of Loma Linda University.
Loo, who serves as vice chair for education and faculty development in the department of medicine and associate dean for educational quality and outcomes at Loma Linda University School of Medicine, was selected after an extensive review of teachers throughout all eight schools of the university.
The award is given every two years to an individual who exemplifies the finest traditions of education. It was established by two professors at the LLU School of Dentistry—Robert Kinzer, DDS, who served as a professor of restorative dentistry from 1983 until his death in 2005, and Bruce Rice, DDS, professor of oral medicine from 1954 to 1958.
In accepting the award, Loo said the mission and values of the institution reflect the way he believes medicine should be practiced. In discussing the source of his inspiration, Loo noted that he cannot imagine not being in a teaching environment. "The students really give meaning to me in being a physician educator," he said. 
Ron Carter, PhD, provost of the university, said that at the center of every university, its mission, vision and values are number one. "But a close number two is the quality of the professors. It's those individuals who engage the students with issues of the mind and of the heart, and provide enthusiasm and commitment. And Larry has an energy and a quality that are contagious."
Debra Stottlemyer, MD, associate clinical professor of medicine, said she remembers going to Loo's office as a medical student and finding it covered with top-ranked medical journals, which were opened on his desk and underlined. "He was always pursuing his passion for staying current and passing that knowledge on to us. He has exemplified for me a master teacher, a master scholar, a master administrator," Stottlemyer said.
Douglas Hegstad, who is both chair and associate professor of the department of medicine, described Loo as an expert at teaching medical students, an expert in teaching residents, and an expert in continuing medical education. "He's even been recognized as a Master of the American College of Physicians," Hegstad said. "So, at all levels of education, he understands the teaching methodology."
The award ceremony was part of the four-day Faculty Development Showcase.