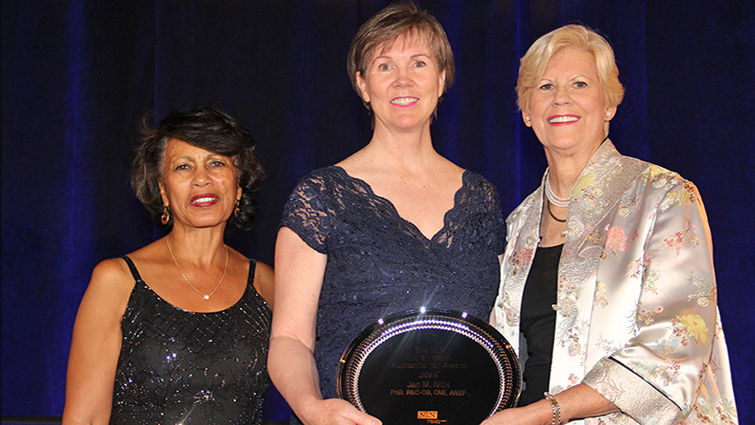 Ethical responsibility and moral decency — high ideals indeed. A Loma Linda University School of Nursing professor was honored this fall with an award that celebrates such qualities due to her passion for helping nursing schools around the world enhance their instruction.
The National League for Nursing presented Jan Nick, PhD, RN, with the Lillian Wald Humanitarian Award during its 2016 Education Summit held in September in Orlando. Wald was founder and first president of the National Organization for Public Health Nursing, among other acts of service and activism.
President of the league's Board of Governors Anne Bavier, PhD, RN, said Nick embodies the "highest levels of achievement" in the league's "core values of caring, integrity, diversity and excellence."
"I felt humbled to receive this award from this prestigious organization, the National League for Nursing, which is the oldest nursing organization in the United States," says Nick, who is board certified in obstetrics and academic nursing education. For the league, she helped create the nation's first advanced certification exam for nurse educators.
She has taken this expertise in nurse education around the world.
"International service is my passion, and when one is able to include passion in one's life work, it no longer becomes work. It becomes sheer joy," Nick says.
Her passion and joy have led her to help nursing schools around the globe teach knowledge and skills that are based in evidence and research, in addition to educating and molding students at LLU School of Nursing since 1997.
"Dr. Nick's passion for involvement in international nursing reminds me of the quotation by Warren Wiersbe, 'The secret of a
 happy life is to delight in duty. When duty becomes delight, then burdens become blessings,'" says Elizabeth Bossert, PhD, RN, dean.
She adds, "It is clear that Dr. Nick has this passion and truly wants to make a difference for nursing in other countries."
Nick's international work has taken her to Cameroon, Mexico, Argentina, Colombia, Dominican Republic, Paraguay, India, Philippines, Thailand, Japan and Switzerland, in additional to her mentoring of nursing educators from Argentina, China, South Korea, Solomon Islands and the Philippines.
She served as dean of the department of nursing at Saniku Gakuin College in Otaki, Japan, from 2013–16, where she has also taught since 2008.
A Fulbright Scholarship is also on Nick's resume; she spent four months in 2008 at National University of Paraguay teaching the nursing faculty and helping start a new bachelor's degree program in nursing.
To enhance her understanding of how to impact health globally, Nick spent three months in 2016 serving as a health policy intern in Geneva, Switzerland, with the International Council of Nurses.