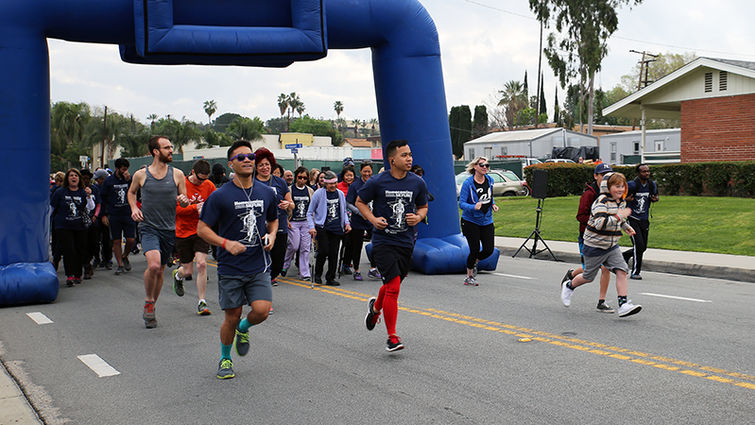 Sarah Schrader spoke to the crowd gathered at the Drayson Center before the start of the at the Loma Linda University Health Homecoming 5K Fun Run/Walk saying her family will forever be connected with the family of Dr. Samuel Soret, immediate past chair of the School of Public Health's Environmental and Occupational Health department. Soret passed away from a heart attack in August 2016 while on a trip to Spain.
The Homecoming 5K was held in memory of both Soret and Schrader's husband, Matthew Schrader, a 2001 graduate from the School of Allied Health Professions who died in a motorcycle accident in 2014.
There was laughter as the family remembered how Matthew's daughters had taught him to appreciate sparkle and glitter; his daughter liked to give her daddy pink pedicures which, unbeknown to the patients he worked with as a physical therapy assistant, were hidden by his work shoes.
While Craig Jackson, MSW, JD, dean, School of Allied Health, joined the School after Schrader had graduated, he mentioned the many people who had shared their memories of the 2001 graduate with him. Schrader is remembered as a caring individual who didn't see his work as a physical therapy assistant as a job — he enjoyed the patients he worked with and took great joy in getting to know them personally. 
In his memory, his family has started a scholarship, the Matthew Lynn Schrader Memorial Fund, for physical therapy assistant students at Loma Linda University.
Helen Hopp Marshak, PhD, dean, School of Public Health, recalled Soret as a friend of more than 20 years. He faithfully served Loma Linda University for 21 years, most recently as associate dean for research and executive director of the School's center for community resilience. He was also a former chair of the school's environmental and occupational health department.
To honor Soret's legacy and the students he was passionate about, money was also raised for a fund in his memory to support students studying environmental and occupational health or health geoinformatics at Loma Linda University.
The 5K participants and wellwishers had begun gathering just after sunrise. As the crowd grew, families and friends chatted and posted for selfies as lively workout songs helped pump up the participants.
The Run/Walk was one of many opportunities during Loma Linda University Health Homecoming for alumni from Loma Linda University's eight schools join faculty, students and staff to participate in an event together. All proceeds from the 2017 Homecoming 5k Fun Run/Walk will be split equally between the funds honoring Soret and Schrader.