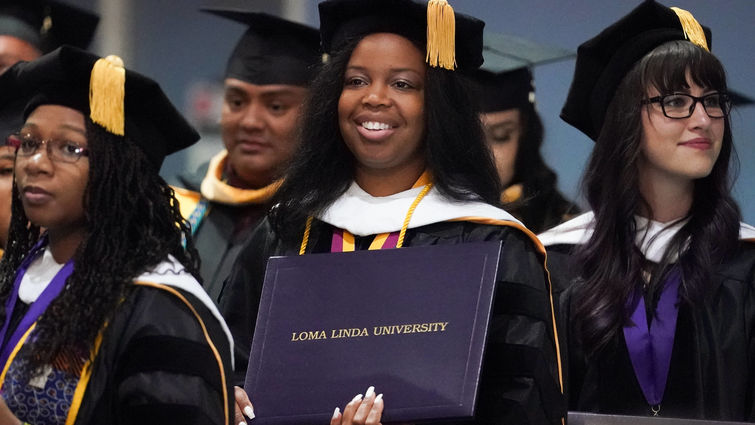 In a tradition stretching several years, the schools of Behavioral Health and Religion at Loma Linda University celebrated a joint commencement ceremony, together graduating about 135 students June 16.
The graduates were sent forth to be "More Than Conquerors" by featured speaker Ted Baehr, JD, whose speech title alluded to Romans 8:37:  No, in all these things we are more than conquerors through him who loved us.Baehr is chair of the Christian Film and Television Commission and founder/publisher of Movieguide.His work aims to positively influence the values represented in mass media entertainment and to help audiences make informed decisions about their entertainment viewing.
The students who earned their degrees conquered many challenges to reach this point — demanding assignments, tough examinations, long hours of study and research, immersive internships and practicums, and thousands of words of writing.
Their work culminated in the degrees conferred as follows:
School of Behavioral Health
The School of Behavioral Health granted its largest number of degrees to Master of Social Work graduates, while also conferring Master of Science degrees in several specialties: Child Life Specialist, Counseling, Criminal Justice, Gerontology, and Marital & Family Therapy. 
Doctoral degrees were awarded for several School of Behavioral Health programs, as well, including PhDs in Family Studies, Marital & Family Therapy, Psychology, Social Policy & Social Research, and Systems, Families & Couples. Students also graduated with Doctor of Psychology and Doctor of Marital & Family Therapy degrees.
School of Religion
The School of Religion conferred Master of Art degrees to students in two programs: Religion & Society, and Bioethics.
Small but mighty, the School of Religion also influences every graduate of Loma Linda University's eight professional schools through religion courses interwoven into all LLU degree programs.
The hard work of students was also illuminated by special awards presented to a number of graduates.
Individual school awards
Both schools presented special awards to a number of graduates, as well as faculty/staff members and alumni.
The School of Religion awarded the following:
President's Award: Kenneth Wright
Dean's Award: Femke Horn
Center for Christian Bioethics Excellence Award: Landon Sayler and Femke Horn
David and Maxine Taylor Scholarship: Ruby Moore and Akivah Dixon Northern
Graham Maxwell Scholarship: Jonathan Goorhuis
New Horizon Scholarship: Hung Nguyen
Saxby Scholarship: Cecilia Saucedo
Wil Alexander Whole Person Care Award: Carissa McSherry
The School of Behavioral Health honored these individuals:
President's Award: Kelly Baek 
Dean's Award for Master's Degree Programs: Tori Dinkfeld
Dean's Award for Doctoral Degree Programs: Catherine Sanner
School Distinguished Service Award: Janet Sonne
Alumnus of the Year: Carlos Escoto
Awards from Loma Linda University
Each commencement season, Loma Linda University, as a whole, confers special honors to individuals from near and far. Two of those awards were presented during the ceremony for the schools of Religion and Behavioral Health.
Martin Doblmeier, founder and president of Journey Films, received an honorary doctorate — the Doctor of Humane Letters award. Doblmeier's award-winning films are noted for exploring how lived-out faith and belief lead to extraordinary acts and outcomes. Among his films are a trilogy about Seventh-day Adventists: The Adventists, The Adventists 2and The Blueprint: The Story of Adventist Education.
Jack Schlinkert, assistant director of Campus Engineering, received the Loma Linda University Distinguished Service Award for his more than four decades of service to the organization marked by high standards of customer service, professionalism, problem-solving, servant leadership and Christ-like demeanor.