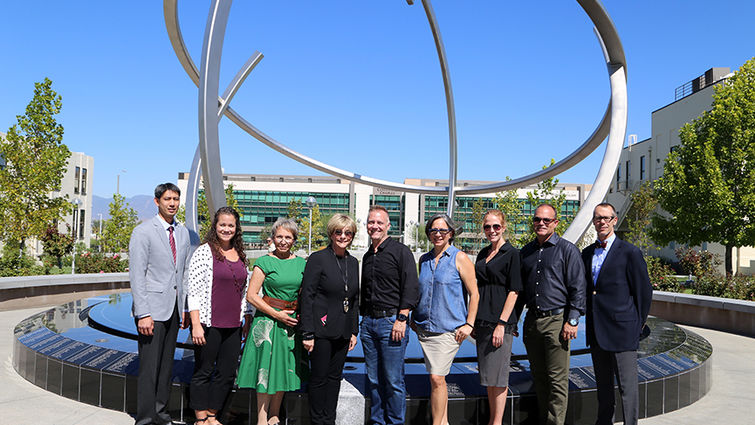 Fourteen teachers from Loma Linda University have been designated Harvard Macy Scholars following their participation in innovative training programs offered by the Harvard Macy Institute in Boston, Massachusetts, throughout the last decade.
The institute was created to bring health care professionals, educators, and leaders together to discuss critical challenges and design innovative solutions that have a lasting impact on how medicine is practiced and health professional students are educated.
Gail Rice, EdD, professor of allied health studies at the Loma Linda University School of Allied Health Professions, first attended the institute in 2010 at the urging of Bertha Escobar-Poni, MD, professor of basic sciences at the Loma Linda University School of Medicine. Rice has returned every year since as a member of the institute faculty.
She applauds Craig Jackson, JD, MSW, dean of the School of Allied Health Professions, for supporting the program by allocating funds for faculty members to attend. Rice says maximum benefit occurs when four or more faculty attend the institute at the same time. "Back on campus, they meet and collaborate and compare notes, and share what they have learned with the rest of the faculty," she said.
Rice considers a program called "Formative dialogues in teaching" to be one of the most effective spinoffs of Loma Linda University's involvement with the institute's programs. Under the leadership of Brian Sharp, PhD, assistant professor of communication sciences and disorders, the peer-teaching program pairs faculty members from all of the LLU schools who attend each other's classroom lectures, take notes and share their findings. Rice said Sharp and the rest of the Harvard Macy scholars look forward to a renewed thrust of the program campus-wide this year.
She noted that the formative dialogues program has proven particularly valuable to the recently-formed department of orthotics and prosthetics education at the School of Allied Health Profession. "All of the faculty members were experienced clinicians, but none had taught in an academic setting," Rice said. Two years after the department started, accreditors told Johannes Schaepper, MDiv, CPO, chair, and Dean Jackson that it was five years ahead of where they expected it to be. Afterward, they dubbed it "The Loma Linda model," and have subsequently recommended it to other developing programs nationwide.
Currently in its 23rd year, the Harvard Macy Institute offers five separate programs, allowing attendees to select an area of focus and build expertise in the field while establishing a network of professional colleagues around the world.
Participants in the main course, titled "Program for health care professional education," are required to be in residence in Boston for 10 days in January and five in March. The four other courses — which focus on assessment, innovation, technology, and post-graduate training for clinician-educators — require between three to six days in March, June, October or December, depending on which course is selected.
Mike Iorio, MPA, director of the master of science in radiation sciences program at the School of Allied Health Professions, completed the main course several years ago. He said that as an attendee, he acquired and enhanced a multitude of skills related to his role as an educator. "As a graduate, I continue incorporating these skills in my various roles as faculty member," he said.
Three years after attending the institute, Eric Johnson, PhD, MS-HPEd, associate professor at the school, pursued a masters of health professions education degree at MGH Institute, a partner entity of Massachusetts General Hospital. Johnson says classes he took at Harvard Macy Institute formed the foundation for the degree program as well as the basis for what he called a challenging academic journey.
"In the days, weeks, months and years that have followed, the undeniable point of the instructional design is ever-present: developing reflective practitioners across academic and clinical landscapes who demonstrate lifelong learning through habitual, experiential reflection," Johnson said. 
Karla Lavin Williams, DrPH, assistant professor at the school, attended the Harvard Macy Institute's main program in 2014 and returned the following year as a faculty facilitator. In that role, she developed and taught an emotional intelligence course for the May 2015 elective series. She said that teaching the class enhanced her creative insights, knowledge and experience as a faculty and student development coach, program director and educator.
"I am grateful for my experiences at Harvard Macy as they continue to shape my personal and professional development, and create new avenues to connect with the Loma Linda University family and abroad," Lavin Williams said.
Elizabeth Armstrong, PhD, the clinical professor of pediatrics at Harvard Medical School who founded the institute in 1994 and directs it today, says the institute has been fortunate to have 14 Loma Linda University faculty scholars attend its courses. She adds that several have returned as faculty teachers. "We are especially grateful for the inspiring teaching sessions delivered in our courses over the years by Dr. Gail Rice," Armstrong said.
Rice's involvement with the institute has led her to author a textbook on effective teaching. Hitting Pause: 65 Lecture Breaks to Refresh and Reinforce Learning, will be released in December by Stylus Publishing. She said Armstrong recently ordered 160 copies of the book to give to each new Harvard Macy Scholar in January 2018.
While the majority of Harvard Macy participants are medical educators from Harvard Medical School, Rice says many also come from throughout the United States, Australia, England, New Zealand and Singapore.
"Loma Linda University is known for leadership in health professional education because of the contribution of its stellar scholars to the institute," Rice said.