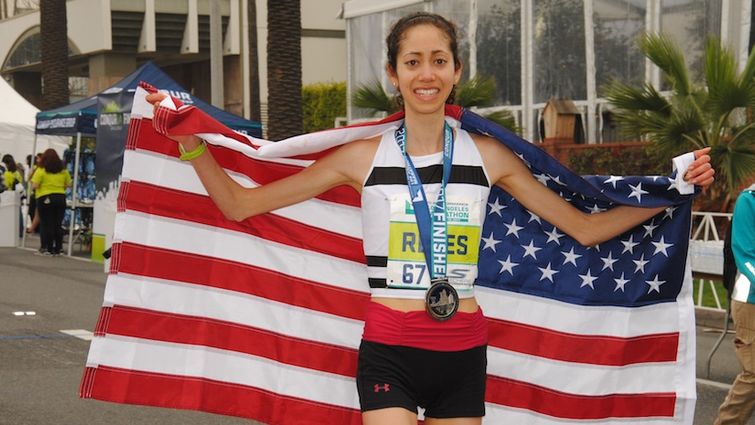 Two hours, thirty-seven minutes and 55 seconds. That's how long it took Joanna Reyes, a student at Loma Linda University School of Pharmacy, to run the Los Angeles Marathon on March 19, 2017. Her all-time best.
Coming in fourth place in the pro women race, she was the first American female to cross the finish line.
"I was shocked," Reyes says of her results. "I never imagined I would be running so fast so soon."
Learning to run (but just for fun)
Running marathons wasn't something Reyes ever really planned to do. Her family lived a healthy lifestyle, so exercising and good nutrition were nothing new to Reyes. But her focus first and foremost was education.
She didn't start running until joining the cross country team her freshman year of high school.
"My family was very supportive," Reyes says, "but education took precedence over sports because that's how I would succeed in life. Regardless of how good I was, I was passionate about running, but it was never more than just something to do for fun."
After high school, Reyes continued to run on the cross-country team for two seasons while attending San Jose State University. She admits that traveling to meets in addition to studying for her classes was stressful.  "It was overwhelming," she says, "and I wasn't event that fast of a runner."
Reyes graduated from San José State University in 2015 with a bachelor's degree in biological science and an acceptance letter into Loma Linda University School of Pharmacy.
A career in health care (but still running)
Reyes always knew she wanted to pursue a career in health care. As for coming to Loma Linda, there were a lot of factors, she says, that influenced her decision.
Leading up to her acceptance to the class of 2019, Reyes enjoyed coming out for interviews with professors and staff. "Everyone was very friendly and demonstrated how much they cared for their students," she says. "They wanted to get to know me as a person and how I would contribute to the school."
Growing up a Christian, Reyes enjoyed the faith-based atmosphere of LLU. "The aspect of wholeness was very attractive and was already a big part of my life."
Since joining the other 325 students at LLU School of Pharmacy, Reyes has remained diligent in her studies, maintaining a 3.0 GPA and also interning at pharmacies for even more hands-on learning.
Once she earns her doctorate degree she's hoping to go into hospital pharmacy. "From what I've experienced interning at Loma Linda University Medical Center, I envision myself in that environment."
As for running while at LLU, that's just something she was planning to do on the side. "But overtime my running improved, and the LA Marathon, well, that just sorta happened."
Marathon life
Three hours and eight minutes. The total time it took Reyes to run her first ever marathon in Santa Rosa in 2014. Since then, Reyes, a Northern California native, has run five other marathons and has progressively gotten better — with the exception of the Boston Marathon in 2015.
Reyes says finishing that race was daunting. "Rain, 40 degree temps and wind. It was a fight to finish."
Trying to keep a 12-minute mile for the last five miles in Boston was challenging and it landed her in the medical tent with hypothermia and severe leg cramps. "But I finished, and I want to do it again."
Before running the LA Marathon, her personal best happened in 2016 at the San Francisco Marathon: two hours and 50 minutes.
Reyes runs every day. Even with the pressure of school and interning, she runs 80 miles a week — 100 during the summer time.
As for this past summer, Reyes was part of an organized training session in Mammoth with other professional athletes and even Olympians from the 2016 Rio de Janeiro Olympic Games.
She was able to train with elite marathoner and Olympian Deena Kastor, who won the bronze medal in the 2004 Olympic games, and her husband, Andrew Kastor, also a marathon runner.
"Training in Mammoth was challenging with the hills and thin air, but I believe it made me stronger," Reyes says. "I look to my next marathon with a positive mindset."
An Olympic vision
Training in Mammoth has served more of a purpose than just teaching Reyes how to run faster and with more technique in hopes of making the 2020 Olympic games a reality instead of a dream.
Reyes says that getting to know and training with Olympians really excites the spirit within her. "I discovered their hidden strengths and fire within their souls," Reyes said. "An Olympian can appear ordinary but they have that special switch they turn on during hard training and races allowing them to perform their best."
"I also have that switch."
Reyes says she was elated to be able to train with some of the world's best athletes in hopes of qualifying for the Olympic Marathon Trials.
"I thank God each day for the opportunities that have come my way."
Follow Joanna's training on her blog at joannagreyes.blogspot.com.