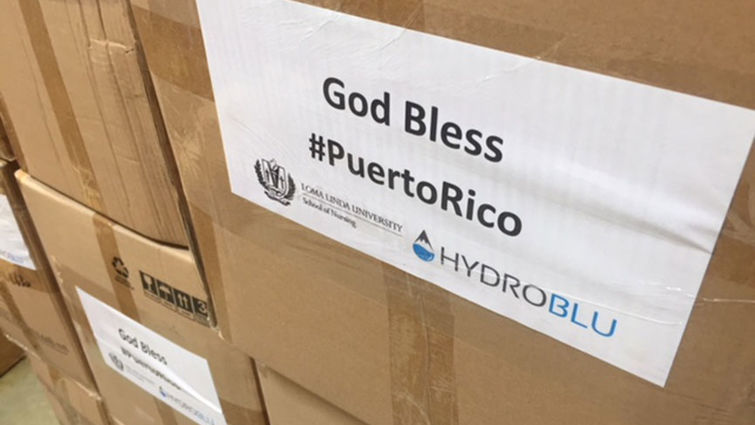 The Loma Linda University School of Nursing (LLUSN) Alumni Association last October donated 900 water filters to a sister school in Puerto Rico in an effort to provide needed aid following Hurricane Maria. 
The donation of the 900 water cleaning devices provided the 500 students and 200 employees of Antillean Adventist University 10,000 liters of clean drinking water. 
The much-needed relief was delivered following Hurricane Maria — a powerful Category 4 hurricane that tore through the island on September 20, 2017. 
Hurricane Maria made landfall just south of Yabucoa Harbor in Puerto Rico on the morning of September 20, 2017, about two hours east of Mayagüez, the city where the Antillean Adventist University is located. Hurricane Maria was the first Category 4 hurricane to hit Puerto Rico since 1932. The storm knocked out power to the entire island, halting clean water access.
Maria Rosa, DrPH, PhD, RN who serves as the dean of the school of nursing and health sciences at Antillean Adventist University, reached out to LLUSN after hurricanes Irma and María struck.
The university, which was founded by the Seventh-day Adventist Church in Mayagüez in 1957, sits on 284 acres of mountainous land overlooking the Atlantic Ocean.
"We asked the Lord to give us the strength to find ways to cope effectively with the obstacles between us and caring for our staff, faculty and students," Rosa said. She soon flew to Southern California to meet with her School of Nursing dean counterpart at Loma Linda University.
Since there were no flights available from Puerto Rico, to California — or any other states— Rosa had to fly from San Juan to Dominican Republic, and from there, go through a series of additional flights, until she finally arrived in Los Angeles. "Upon my arrival, I felt weak and extremely thirsty," Rosa said. "Water in Puerto Rico was not safe and many were dehydrated. I remember being so excited to see bottled water!"
Elizabeth Bossert, PhD, RN, dean of Loma Linda University School of Nursing, excitedly welcomed Rosa, eager to help in any way. "Their care and sincere concern gave me hope and the courage to make two specific requests," Rosa said. 
First, Rosa asked for assistance with delivering safe drinking water to her school. Many hospitals on the island were directly impacted by the hurricanes, and as a result, were closed. With the island still in recovery one month after the hurricane and millions left without power and water, the school's alumni association made efforts to ensure that their sister school had access to clean water, and the school made sure the students had a place to learn. 
The donation from the LLUSN Alumni Association provided Antillean Adventist University with enough water filters and other needed supplies to distribute among all students and staff. "I can still see their smiling faces picking up their water filters. Their expressions are unforgettable," Rosa said. "Loma Linda University School of Nursing provided us with the opportunity to meet such an important basic need: safe clean water."
Second, Rosa asked if the school would consider allowing some Antillean Adventist University students to do their clinical practice alongside Loma Linda University students.
In addition, two nursing students were able to complete their practicum at the Loma Linda University Medical Center in January of 2018, both completing their hours and becoming eligible for graduation in May. 
Though several utilities are now operating in Puerto Rico, many places are without electricity, making it difficult for Antillean Adventist University to find clinical sites for their students. 
Loma Linda University School of Nursing has since made space for 20 more nursing students, enabling them to complete their practicum experience at Loma Linda University Medical Center alongside their own students. 
"Antillean Adventist University will always be thankful for the support received," Rosa said. "We are aware of the sacrifices made and pray that the Lord will return their loving support with many blessings."