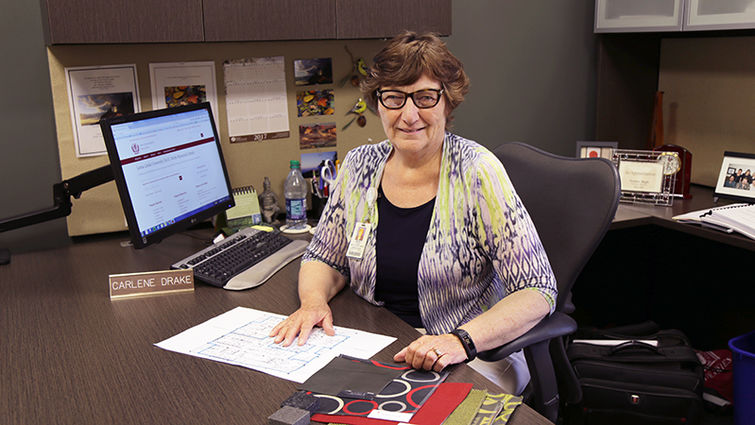 Carlene Drake, MSLS, who guided Loma Linda University's libraries through innovation and emerging technologies and oversaw transformation of the Del E. Webb Memorial Library's physical space, will retire June 30 after more than 30 years of service to the university.
As director of university libraries, Drake was responsible for daily library operations including long-range planning, implementing library programs and procedures and supervising library faculty and staff. She also initiated the current model in which a librarian is embedded in each of the university's eight schools.
"For decades Carlene Drake has served Loma Linda University with distinction," said Ronald Carter, PhD, provost at Loma Linda University. "Through her leadership, the library transitioned from a focus on bound collections to health science journals and texts that have distinguished our medical holdings as one of the finest in California."
Because library resources such as journals, books and audio and video recordings are now available online, Drake is often asked why a physical library space is needed. "Students don't have an office," she said. "The library is a place where they can meet to use the digital resources and collaborate in a safe environment."
Understanding the needs of those who use the academic library's services, Drake made an effort to change the Del E. Webb Memorial Library from a place where bound books and journals were checked out to a vibrant educational space for students, faculty and staff.
In 2012, damage from a water leak led to renovations of the third and fourth floors of the library. Working with administrators, designers and campus engineering, Drake managed the process to create a space that accommodates both students who wish to sit and study quietly and groups who gather to collaborate.
"The design of the furniture in each area lets the students know if they can talk or if it is a quiet area," Drake said. "Sometimes students like to stand as they work together and on the third floor, a collaboration counter invites interaction."
Students use the newly designed areas constantly, with busy students appreciative the library's policy of allowing food and drink in the library, Drake said. With the start of the summer quarter, the library will be open until midnight Mondays through Fridays and Sunday, and until 6 p.m. on Fridays. 
Drake found her path into library science while she was a college student. "I worked in the library when I attended La Sierra University, which gave me a glimpse of what a career in librarianship would be like," she said.
After graduating from La Sierra University in 1973 with a BA degree in elementary education, Drake attended University of Southern California, earning a master of science in library science degree in 1978. She began her career as an educator, teaching at Alta Vista Seventh-day Adventist Elementary School in San Jose, California (1973 to 1976) and El Cajon Seventh-day Adventist Elementary School in El Cajon, California (1979 to 1980).
She joined Loma Linda University as a reference/interlibrary loan librarian in 1980 and was promoted to chair of the department of public services in 1984. From 1987 to 1991, she worked as reference librarian for life sciences at California State Polytechnic University in Pomona and then returned to Loma Linda University, where her titles have included chair of the public services department (1991-2000), associate director (2001-2005) and director since 2005.
Drake has participated as a representative of the faculty of the library in various key academic committees across Loma Linda University Health, Carter said. She has also served as a leader in the University Faculty Council and as a University Marshal with Carter during LLU commencement ceremonies.
A timeline on the wall outside of the administrative office of the Del E. Webb Memorial Library created by library staff to commemorate her retirement captures both advances in technology and milestones in Drake's life.
Though the library's card catalog was last used in the 1990s, each of LLU's educational programs continues to rely on resources provided by the library. "The library is still about access to information, though it may no longer be a book on a shelf," Drake said.
Connections between library services and information and LLU's faculty and staff are strengthened by liaisons who work with each of the university's eight schools.
"The liaisons work with the deans, department chairs and faculty to understand their needs," Drake said. "They provide instruction to faculty and students about how to use library resources and how to search for information, and visit the schools to provide in-depth orientation sessions."
According to Drake, some of the library's more intriguing holdings include oral histories of Loma Linda University Health told by key figures in the organization's history, bone boxes that contain every bone in the human body and Charlie, a human skeleton. The library also offers a selection of vegetarian cookbooks.
Loma Linda University Health employees may also use the library. "If we don't have a book they want to check out, they may request it on our webpage," Drake said. Often the book will be available in three days through Link+, a service shared by 20 libraries across California.
A retirement reception at the library attended by deans, faculty and colleagues on June 14 feted Drake. Administrators shared memories during a roast by librarian Shan Tamares highlighting Drake's passion for travel, photography, baking and her close connection to her staff.
After her retirement on June 30, Drake is looking forward to moving to the Sierra foothills of Central California with her husband, Eugene Drake, a retired entomologist and Thor, the couple's standard poodle/Australian shepherd mix.