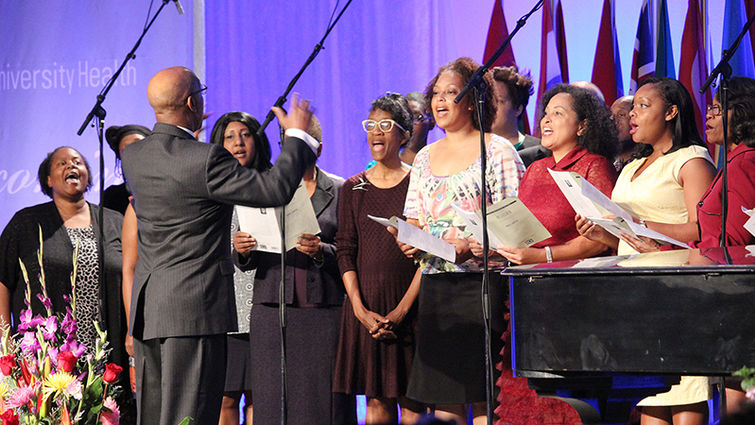 The telling of stories and sharing of history is an important part of any group's heritage. On March 4, as part of Loma Linda University Health's Homecoming, over 150 Black alumni from a variety of disciplines and generations met together during a special program, A Focus on Black Alumni of Loma Linda University, to tell stories and share history, to reminisce, to rekindle relationships and to celebrate and affirm the some of the contributions of Loma Linda University's Black alumni.
In his welcome to the attendees, Loma Linda University President Richard Hart, MD, DrPH, affirmed the importance of sharing stories as he talked about diversity. The vision of the university regarding diversity is to create an environment and atmosphere where everyone —regardless of race, religion, sexual orientation, or culture — feels welcome; an environment where unconscious biases are overcome; and an environment where people get to know each other. That is done by telling stories and listening to the stories others have to tell. In his remarks, Hart stated "Diversity is not a challenge to overcome. It is a strength to embrace." The university's Diversity Council was developed to help build that strength.
During the program, alumni were highlighted in the video "Lest We Forget," including the story of Ruth J. Temple, MD. Temple was the first Black female to graduate from the College of Medical Evangelists in 1918 and became a prominent figure in the Los Angeles Public Health Department. The video also shared the story of Theodore Roosevelt Mason Howard, MD, a 1931 School of Medicine graduate who was known in Chicago for his business acumen, involvement in politics and civil rights. The video also told the stories of Donna Willis-Iben, MD, a 1977 graduate of the School of Medicine who was the medical correspondent for the NBC News' TODAY in the mid-1990s and Dr. David Williams, MPH, professor, Harvard School of Public Health. Williams is internationally recognized for his work as a leading social scientist focused on social influences on health.
Other stories were shared in person. The story of Leroy Reese, MD, a 1972 graduate of the School of Medicine was told by four students of the former and current presidents of the Black Health Professional Student Association (BHPSA): Sherrefa Burchell, who is in the School of Medicine PhD program in physiology; Billy Watson, a School of Medicine student in the PhD program in microbiology and molecular genetics; Michael Bennett, an MBA in health care administration program student in the School of Public Health and Jim Ervil, a fourth-year DDS student in the School of Dentistry.
Reese was honored by BHPSA for his decades of advocacy, work with and support of Black Alumni of Loma Linda and La Sierra Universities (BALL), BHPSA, and Minority Introduction to the Health Sciences (MITHS), a summer program for high school juniors. Dr. Donna Cameron (MPH, 1976) shared her story about how Loma Linda University prepared her for her current position at Georgetown University School of Medicine. The oldest Black alumnus in attendance, Mr. Frank Mercer, 93 years old, was as a radiology technology student in 1957. Mr. Mercer resides in Riverside and remains active in his community.
Leon Seard, MD, a 1985 graduate of the School of Medicine, was the featured speaker for the program. Seard used the story of Joshua 4 as the platform for Stones and Stories. When asked by their children, "What mean ye by these stones?" the Israelites were to tell them of God's miraculous leading and deliverance from Egypt. Seard reminded Black alumni they, too, have stones they gathered at the university that should remind them of God's miraculous leading during their university sojourn and they should tell their stories to the generations that follow. More importantly, Seard reminded Black alumni to tell the story of Jesus and His love — to further the healing and teaching ministry of Jesus Christ "to make man whole."
The Black Alumni Chorale, under the direction of Craig Jackson, JD, MSW, dean, School of Allied Health Professions and Alan Woodson, DDS, assistant professor, School of Dentistry, provided music for both the morning service at the Drayson Center and the Focus on Black Alumni program. Chorale members who are health care professionals from as far away as North Carolina and Maryland, including occupational therapists, physicians, nurses and dentists, joined together to tell their story through music. 
—Contributed by Nicceta Davis