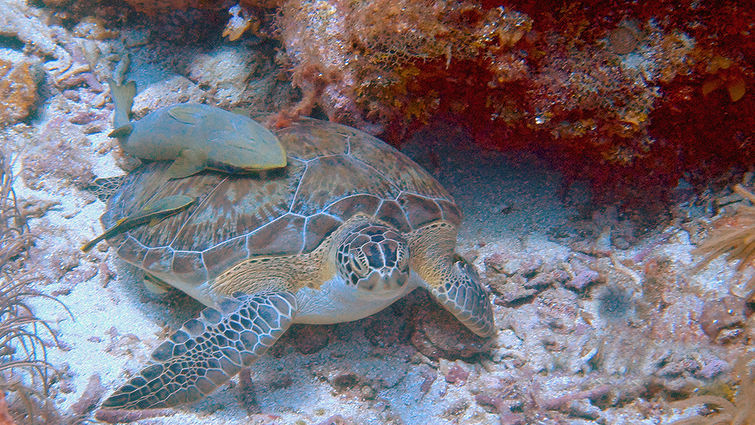 Creatures that live in the ocean are the charming stars of a new animated feature that is being enjoyed by audiences around the world. The story includes the quest of a very determined green sea turtle. 
What is the green sea turtle's real story? A Loma Linda University professor's knowledge about this fascinating creature is woven into the following story.
The female green sea turtle coasts with the East Australian current. During her two-week journey she has encountered whales, sharks and has weathered storms.
While sea grass beds provide her fuel, she occasionally munches on fishes or crabs if they are within reach and unable to flee. She never chases them.
As the trade winds continue to push the current in the direction of her birthplace, she swims near mats of free-floating seaweed. When she was a hatchling, the seaweed provided a place of safety, transportation, and rest.
This is the second time she has made the trek back to the nesting beach on the coastline to nest where she had hatched.
Her own babies will follow in her footsteps, making their first trip to the ocean right after hatching. Their treacherous journey will begin as they blink the sand from their eyes and take their very first breath, racing their 100 brothers and sisters to the shore.*
As fast as their tiny flippers can pull them, her hatchlings will move toward the sea. Immediately they will be self-sufficient, able to swim and to look for their own food.
Though the currents are never exactly the same from year to year the mother turtle, led by instinct and the earth's magnetic fields, makes a right turn, swimming toward the very beach where she hatched. She is a warrior.
"It is estimated," says Steve Dunbar, PhD, professor, Loma Linda University School of Medicine department of earth and biological sciences, "that just one in 1,000 sea turtles will survive from hatchling to adulthood."
While sharks, sea gulls and even wild dogs were her enemies while she was a hatchling, her shell has grown with her. Even though now, at close to five feet in length, her shell is tough enough that sharks look elsewhere for their meals, she still turns sideways when she spots a large shark to make herself look as big, and as inedible as possible.
According to Dunbar, it is not possible to know how long sea turtles live while they're alive. "While we measure the growth of the turtle shell from year to year until adulthood – several centimeters a year for green sea turtles," he says, "the shell almost stops growing once maturity is reached. Tragically, the lifespans of many sea turtles are too often cut short. Many are killed when they become entangled in fishing nets or floating garbage; humans also capture them for food or for their shells."
Cartoons and stories are entertaining, are often heartwarming and provide great opportunities for parents to spend time with their kids. They also open up new areas for discussion.
"For kids who are interested in finding out more about the secrets of sea turtles," says Dunbar, "the turtleprotector.org website is a great way to begin."
Families can plan a vacation so they can volunteer working with sea turtles. "They can help us learn more about these amazing creatures by walking the beach where turtles nest in Honduras each night," says Dunbar, "or diving in their habitat."
Dunbar is planning to teach a course at Loma Linda University that will be open to the community, to learn more about the amazing sea creatures that live and swim off the California coast.
*Green sea turtles lay from 120 to 130 eggs in a single nest; of these just 70 to 90 are able to safely make it to the ocean.
— Jenny Favela and Nancy Yuen; story by Nancy Yuen