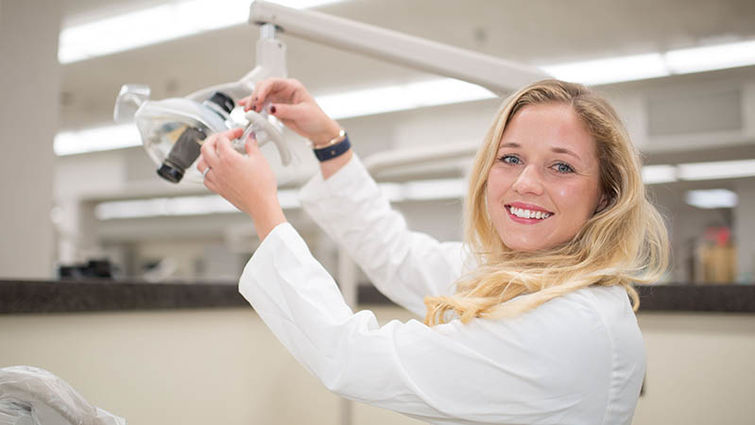 While growing up, Kylin Hamann spent summers in China living with various host families and studying Mandarin. During her sophomore year in high school she lived in Sichuan province where she immersed herself in its culture, people, and language. Kylin enjoys using Mandarin to communicate with her Chinese patients on the School of Dentistry's main clinic floor as well as at The Blessing Center in Redlands, California.
At that student-run free dental clinic for the underserved, Kylin provides dental services each Tuesday to patients of all ages and backgrounds. "It's a blessing to work alongside dedicated classmates who are passionate about serving others through dentistry," says the class of 2018 Loma Linda University School of Dentistry student.
Kylin has come to view dentistry as more than a profession: it's a relationship with each patient built on trust and love. "People truly are affected by their health and how they perceive their smile," says Kylin. "It is my goal to care for the person in a way that goes beyond the teeth." With every appointment, she takes the time to get to know her patients and to help them understand what is involved in the procedures they need.
Her commitment to provide compassionate care for every patient traces back to an early age. Kylin always admired the ability of her mother — Beth Hamann, DDS'85 — to balance work as a dentist while raising six children. "Her love for dentistry is evident, but more than that her passion for connecting with people and building meaningful relationships is beautiful."
As Kylin matured, her mother would share stories from her education at Loma Linda University's School of Dentistry where one faculty member made a lasting impression. In Dr. Hamann's first week as a dental student in 1981, a young professor walked up to the blackboard and wrote the word L-O-V-E. He told the class that if they were here for any other reason than to love patients, they should leave. This single indelible moment inspired Beth Hamann in a way that over the years nourished a similar inclination in her daughter.
Although Kylin had the option to attend several dental schools, she was drawn to the special place her mom always told her about — Loma Linda University School of Dentistry. "I wanted to find people like the young professor who inspired my mom so deeply."
Kylin arrived at the Loma Linda University campus not knowing anyone and was a little nervous at first, as most students are. During her initial visit to the Blessing Center, she was welcomed immediately by Mark Carpenter, DDS'80, who made her feel part of the team. She remembers how he took the time to get to know her and inquired about her interests. "You seem like you're a service-oriented person," he remarked, "I'd love for you to come back and be a part of the group." That evening Kylin called her mother to share how her day had gone and described how warmly she was received by her supervising clinician.
"This professor is so amazing, he made me feel so very welcome," Kylin exclaimed. Dr. Hamann was pleased to hear such positive news and very curious to know the dentist's name. When Kylin told her it was Dr. Carpenter, her mother's reaction was joyful surprise: "That's the person I've been telling you about your whole life!"
Beyond her work at the Blessing Center, Kylin spends most of her time with classes and lab assignments. She relishes every opportunity to connect with faculty members and build relationships that inspire her professionally and personally. One of those who has played an integral role in her mentoring is Kwang "Peter" Chung, DDS'76, MA'81. "He will never compromise or settle when it comes to providing excellent care," she says. "It's an honor to attempt to follow in that legacy of love and clinical excellence that Loma Linda University School of Dentistry seems to cultivate."
As a fourth-year student, Kylin was selected to participate in the School of Dentistry's implant dentistry honors program for which she attends classes taught by graduate implant and prosthodontic faculty members. The unique program offers her the opportunity to shadow and assist in various implant surgeries. "I get to learn from the best," she said.
For the past three summers, Kylin has provided dental care to families and children in Nicaragua as part of the School of Dentistry's Service Learning trips during which she has come to know the children she's treated and has been able to watch their progress. She sees value in returning consistently to the same community and hopes to go back in the future. Also on her to-do list are dental mission trips to China.
Looking for balance in her life, Kylin will run the Chicago Marathon this October. She often starts her days at 4 a.m. with a run in the dark. "School can overtake your life and it's hard to balance everything at times," she says. "Training for the marathon gives me incentive to find the time."
Kylin graduated in 2014 with her bachelor's degree, a dual major in biochemistry and Chinese, from Calvin College in Grand Rapids, Michigan. Following graduation next year from Loma Linda University, she will return home to Phoenix, Arizona, to partner professionally with her mother and her fiancé, Eric Chen, DDS'14, at the family's dental practice.