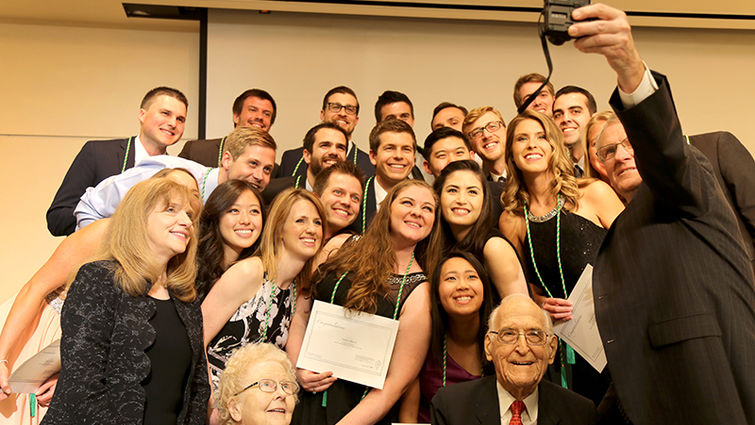 Twenty-three members of the Loma Linda University School of Medicine class of 2017, two faculty members and two house staff were inducted into membership in the Alpha Omega Alpha honor medical society during the organization's annual banquet, which was held Wednesday, March 15, in the Wong Kerlee International Conference Center.
Since the event coincided with the 60th anniversary of the Epsilon Chapter of California, Ray Herber, MD, and Glenn Foster, MD — charter members from the chapter's first year, 1957— helped celebrate the occasion. More than 200,000 physician leaders have been elected to membership in Alpha Omega Alpha (AOA) since the society was founded in 1902, and about half that number are currently living. The organization notes that 75 percent of medical school deans in the United States are members of AOA. Roger Hadley, MD, dean of the School of Medicine, is one of them. He was initiated into the Epsilon chapter as a student.
"Members epitomize the characteristics of honesty, honorable leadership, morality, virtue, altruism, ethics, and dedication to serving others," the AOA notes in a membership brochure. Judging from biographical sketches that were read at the event, they also lead interesting lives.
Tucker Coston from the Shenandoah Valley of Virginia attended Southern Adventist University in Tennessee, majoring in biology with a minor in business administration. Coston took a year off from undergraduate training to help build nearly 100 churches in Zambia. After enduring three years of long-distance dating, he says he feels blessed that Emma Khan, his girlfriend of four years, recently moved to California.
Julia Chen found her fiancé and a close friend during her first year of medical school. She grew up in Arcadia, Calif., and attended University of the Pacific. Chen disclosed that she met her fiancé William Angkadjaja the first day of medical school orientation. "We are now engaged to be married this weekend," she said. "One of my bridesmaids is a close friend that I met during first year of medical school, Beverly Lauw."
Zachary Hill tackled his medical education with zeal. Not surprising, since he played football for the nationally ranked Fresno State bulldogs during his undergraduate career. He also met his wife Meghan at Fresno State. Hill is looking forward to a career in orthopedic surgery and credits his parents, brothers and, especially, wife for supporting him through the past four years. "This honor is as much theirs as mine," he said.
Seattle native Christena McBride says she is passionate about caring for sick children and hopes to work as a pediatric intensivist in a developing nation. Married to her high school sweetheart, Conor, whom she describes as her best friend and greatest supporter, she says traveling to Belize to experience firsthand the practice of medicine in a resource-poor setting was one of the highlights of her Loma Linda education.
Here are the initiates into the Epsilon chapter of Alpha Omega Alpha and their officers:
Class of 2017
Baruth, Nichole
Evans, Erica
Mills, Gavin
Beatty, Jessica
Grigsby, Phillip
Pender, Tyler
Bergman, David
Gust, Peter
Phillips, Aaron
Bravo, Steven
Hill, Zachary
Rigsby, Ryan
Chen, Julia
Hoover, Daniel
Stevick, Casey
Collins, Bethany
Kim, Yohanan
Tryon, David
Coston, Tucker
Kutzner, Emily
Wathen, Joshua
Couzens, Erica
McBride, Christena
 
Faculty
Ricardo Peverini, MD
Brenda Rea, MD
 
House Staff
Paolo Jorge, MD
Lucas Korcek, MD
 
Officers
David Tryon, Student President
Ryan Rigbsby, Student Vice President
 
Leonard Werner, MD, Secretary-Treasurer
Danny Wongworawat, MD, Councilor
 
During the ceremony, Hadley introduced four members of the Loma Linda University Overseas Heart Surgery Team: Joan Coggins, MD, Ellsworth E. Wareham, MD, Janette Allen, RN, and himself as moderator. Panelists shared stories about previous trips abroad and the people they had helped care for.
Wareham said that while he was completing his residency in 1950, open-heart surgery was not well established as a specialty. His advisors told him to "get some chest experience," so he sought cases involving the lungs and esophagus. As cardiovascular surgery became a recognized discipline, Wareham — who, with Coggins, co-founded the heart team — gained international acclaim as one of its leading practitioners.
Coggins recalled that in the early days, she and Wareham had to take all their supplies and equipment when they left Loma Linda to operate on patients at other facilities. She shared funny anecdotes about loading the car, adding that she and Wareham thought that if they could schlep the team and its equipment around Southern California, they might as well take it overseas. The idea seemed farfetched at first, but the more they talked, the more it made sense. Eventually, they assembled a team of physicians and other health professionals and traveled the world performing open-heart procedures on thousands of patients in Egypt, Greece, Pakistan, Saudi Arabia, Taiwan, Thailand and other countries. They also helped establish heart surgery teams wherever they went by instructing local health care providers in the best practices of the profession.
"As long as a country could provide a large space, electricity and water, we could set up our equipment and do surgeries," Coggins reported. She then gestured around the banquet hall and added, "We could do surgeries right here!"