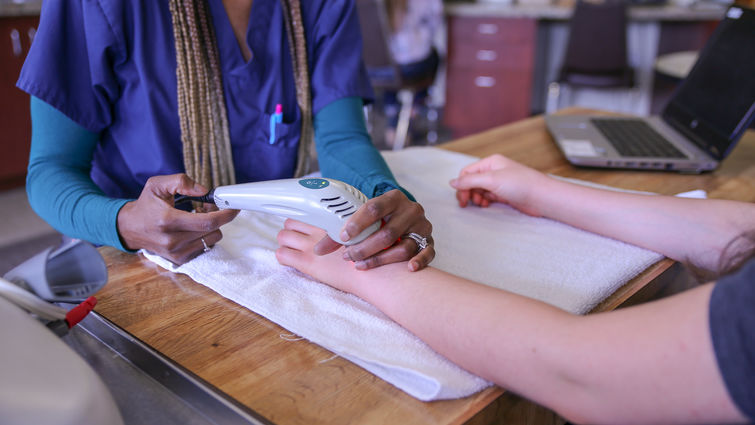 Life rarely happens as we expect it to. One day you can be playing on the piano at church, only to find days later that your fingers are swollen and as months pass you become unable to play due to the pain. One day you could find out your child is diagnosed with Autism, and as parent, you're unsure how to give them independence in day-to-day activities. Maybe you've suffered a stroke and yearn to just be able to brush your teeth on your own again. ​
Whether it is illness, injury or disability, life can easily be turned upside down. The things that bring us the most meaning, or even the subtle activities we take for granted, can easily become the hardest thing for us to do. ​
Patients who come to the Outpatient Rehabilitation therapies at Loma Linda University Health are able to find the treatment they need to do those things that matter again. Be it occupational therapy, physical therapy or speech therapy, patients can find treatment to help re-unite them with the activities that health barriers took away. Erica Johnson-Herrera, OTD, CHT, is one of those team members making a difference in the lives of those she helps at the hand center. ​
Herrera, a graduate from Loma Linda University's School of Allied Health occupational therapy program, finds a common misconception about her field, is the idea that she is another version of a physical therapist. She says it's rooted in the misunderstanding of what Occupational Therapists do. ​
April is National Occupational Therapy Awareness month, and Johnson-Herrera hopes to share the diverse nature of what her profession offers for both patients and those interested in pursuing a career. ​
What about Occupational Therapy interested you in pursuing a career?
Erica Johnson-Herrera: I always knew I wanted to go into the medical field. For me, the question was, how can I serve people in a wholistic way? What in healthcare would allow me to do a combination of things like addressing the physical components, mental components, family issues, the community around the patient — what does that profession look like? When I came across Occupational Therapy I recognized that it was a broad profession that encompassed these factors. Since an occupational therapist looks at the whole person and what occupies them, there is a wide range of different issues and people I could help. I love that aspect of my profession.
Occupational Therapists cover a lot of ground in how they help their patients. How do you explain to others, what you do?
Whenever I start to explain my profession to my family, patients and clients, I start with the word occupation. People have an idea of what therapy is, but how do we define occupation? For Occupational therapists, occupation is anything meaningful that you do throughout your day. These can be great hobbies like playing the piano or rock climbing. It can also be day-to-day activities like brushing your teeth, putting on your clothes, or braiding your daughter's hair. It can even be doing puzzles with your Autistic son. Occupation doesn't have to be limited to your employed job. Think of your top three most meaningful activities that you do on a daily basis. Now imagine that for some reason, you were no longer able to do them. How would this change your life? As an occupational therapist, it is my job to get you back to those tasks as best as possible.​
How did your education in the Occupational Therapy program here at Loma Linda prepare you for the diverse needs of your profession?
I believe Loma Linda University does a great job of preparing students for the real world because of the opportunities beyond the core program — like service learning projects, community services and missionary work — helped bridge gaps between textbook education and clinical practice. When you graduate, you run into those, "Oh wait, how do I do that?" moments, and you need experience to help work through those situations. For me, those moments didn't feel new. I had opportunities to work through those situations by participating in learning projects, collaborating with other departments and building leadership skills through community practice opportunities. So, to provide the best quality care, I learned how to function as a member of the interdisciplinary team when I was a student at Loma Linda University. 
As a hand therapist, in occupational therapy, what is unique about your role? 
Hand therapy as a specialty is interesting because it embodies both the physical and mental components of OT perfectly. As a hand therapist, I am face-to-face with you, providing treatment to the parts of your body that you utilize to manipulate your environment daily. So, because I have your attention, this can cause you to be in a vulnerable space. We have to respect where patients are and their comfortability, but it's also a unique opportunity to build relationships and gain trust to ensure they get both that physical and mental care they need. 
What kind of services fall under hand therapy?
Traditional hand therapy includes services for things like chronic conditions such as arthritis, sometimes neurological conditions like stroke, carpal tunnel, repetitive use injuries, and fractures. Since Loma Linda University Health is a trauma center, we see a lot of other things, like congenital issues, full amputations, tendon repairs and wound care. We also help provide techniques to modify and adapt your tasks, as well as manipulate your environment. We also provide orthotics for support, protection and assistance with activities of daily living. At the hand center patients range from pediatrics to adults. In the same day, I can be assisting a young child on how to retrain their newly trans positioned index finger, as a thumb, to a teenager who lost their thumb in a firecracker accident. But how I treat them is going to be different because I have to consider their story, how they got there, the emotional impact to their life, and their goals as well. ​
What do you find to be the most rewarding aspect of occupational therapy?
For me, it's seeing the patient realize their own independence. As an occupational therapist, our goal is to help patients return to the fullest independence in the occupations that are meaningful to them. I can take objective measurements, I can see subtle improvements like flexibility or posture and I can see visual changes over a few sessions. I can assess how the patient is getting better and that is its own reward. However, it is much more exciting when the patient sees it too.  ​
What would you tell anyone interested in pursuing a career as an Occupational Therapist?
If you're wanting to go into occupational therapy, you as a person should have a love and respect for people. To be an occupational therapist, you should care for people and want to connect with them on a deeper level, to give them the best care possible. The most important thing in our profession is the ability to listen to our patients, see what they can do and not what they cannot do, and allow them to be a part of the healing process. Once you've mastered that, you can make functional, and emotional changes together. 
If you are interested in learning how to become an occupational therapist through Loma Linda University School of Allied Health Professions, contact studyot@llu.edu or call 909-558-4628
To schedule an appointment with an occupational therapist, visit our appointment page or call 909-558-6144.