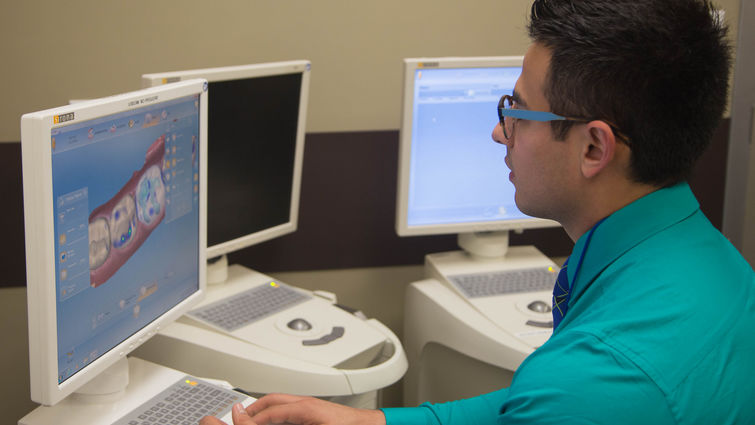 The Hugh Love Center for Research & Education in Technology gives students at Loma Linda University (LLU) School of Dentistry the unique opportunity to experience first-hand the private practice environment while exploring new technologies and resources to efficiently and effectively treat patients.
The 3,000-square foot center offers six dental operating rooms and a three-chair open orthodontic clinic that include advanced tools and imaging resources to treat patients in all dental settings. Each room is furnished with multiple screens, including a rear monitor for the clinician and front monitor for the patient, a flat screen TV, unique chairs designed to accommodate both left and right-handed clinicians, plus diagnostic tools such as X-rays and Intraoral cameras.
"We're bringing students a taste of private practice," says Jessica Kim, DDS, director of the Hugh Love Center for Research & Education in Technology. The center was named in honor of alumnus Hugh C. Love, DDS (class of 1961), whose unrestricted trust to the School of Dentistry made possible the renovation of the former orthodontic clinic.
The center opened in 2012 as a joint partnership between the Center for Research & Education in Technology (CRET), a non-profit association of dental manufacturers and suppliers and the LLU School of Dentistry. It serves as a fully-functional private dental office located within the dental school.
Earlier this year, the center received its first Omnicam, which enables student clinicians to scan a digital picture of a patient's intraoral surfaces and immediately design and mill a restoration. Patient's comfort is enhanced because the digital scan does not require the use of a powder substance to prep the mouth. Kim says, it's faster, easier and, the best part the digital picture is in color.
It's much more difficult to work with the powder in a patient's mouth, according to Kim, and it can take longer to capture the image with an older model. The Omnicam gives students the capability of delineating tooth structure from tissue, which enables them to better prep the patient's teeth for a perfect fitting restoration.
Many of the patients treated at the center enjoy the added benefit of receiving total dental care in a single appointment. Patients have the ease of remaining in one location, due to the center's comprehensive clinical resources. The goal is to have the patient receive maximum care at any appointment.
According to Kim, many clinicians in private practice are able to CAD/CAM a restoration within two hours or less. Students at the center can do this in four hours or less, giving patients the same-day experience.
"The goal of the CRET center is to provide the students with the opportunity to concentrate on more advanced techniques for preparation and transition into private practice," Kim says.
For Christopher Rodas, a fourth-year student, the center's innovative space has provided him with opportunities he can apply in his professional career. "I've worked with technologies, such as an intraoral camera, which increases my experiences," Rodas says.
When the center first opened, rotations were available to only fourth-year dental students. Today, first- and second-year students have the opportunity to observe and assist with procedures, while third-year students rotate six times within the school year. Fourth-year students can schedule various procedures throughout the year. All students are monitored and mentored by LLU School of Dentistry faculty. 
Five months ago, Kim took over direction of the Hugh Love Center for Research & Education in Technology from its founding director of five years, Nadim Baba, DMD, MSD, professor, Division of General Dentistry.
Over the next year, Kim plans to expand student utilization of the technology center and incorporate CAD/CAM e.max crowns, which offer great strength and a more pleasing appearance. Students can also expect to learn a guided implant process that involves scanning the patient's mouth and integrating the implants with the aid of a cone beam imaging. This will ensure a more predictable implant placement.
"We want to be certain that our graduating students understand the technology being used in today's professional setting and have them experience first-hand the most recent dental equipment for greater success," Kim says.