If you plan on congratulating Daniel Samano on his graduation from Loma Linda University School of Medicine (LLUSM) on Sunday, May 29, you may have to stand in line for quite some time.
That's because Samano expects more than 60 people to show up, including: his wife, Carolina; his mom and stepfather, Lupita and Pablo Gomez; an assortment of cousins and other family members; and several members of the faculty and staff of Calexico Mission School (CMS)—most notably his first grade teacher, Zita Robinson.
There are two reasons for Samano's outsized entourage. First, no one in the 79-year history of CMS has ever received an MD degree from LLUSM before. Second, none of the 641 graduates of Si Se Puede and other Loma Linda University pipeline programs have ever done that either. Si Se Puede, which started in 2005, translates from Spanish as "Yes you can!"
To use a baseball analogy, that's like hitting two grand slam home runs in the ninth inning to win the game for the home team.
His journey toward medicine began 26 years ago when he was four months old. That's when his mother, Guadalupe—"Lupita" to family and friends—crossed the border from her home in Mexicali to land a job cleaning bathrooms at CMS. One year later, the then-single mom got a promotion.
"Because she had an AA degree in secretarial science, she was promoted to school secretary and receptionist," Samano reveals. "She's held that position ever since."
Samano practically grew up at CMS, attending there from kindergarten to 12th grade. Susan Smith, MA, principal of the school, says that in an educational institution noted for exceptional students, Samano stands above the crowd.
"Calexico Mission School has always had students whose extraordinary qualities are made known early in their academic lives," Smith observes. "These children stick to their goals and reach for the stars.
"Daniel Samano," she continues, "walked the halls of this school from 1995 to 2008," pointing out that when he started kindergarten at the age of 5, he couldn't speak English.
"Danny was a cute little boy!" Smith adds. "Growing up, he was extremely bright, independent, and focused. His teachers enjoyed having him in class and encouraged him to strive for excellence in every aspect of his education."
Samano's junior year at CMS proved to be a turning point. Encouraged by the fact that Samano was tutoring his classmates in general chemistry and taking anatomy and physiology with the seniors, Zaida Barr, his science teacher, suggested he consider making medicine his career.
It wasn't the first time the thought had crossed his mind. But just as not every child who dreams of growing up to be President of the United States actualizes that later in life, many "wannabe doctors" grow up to do something else. But when Barr told Samano about the Si Se Puede program at LLU, he decided to give it a try.
Si Se Puede, subsequently renamed in 2012 as the Summer Gateway Program, brings students from underserved minorities and underprivileged families to Loma Linda University for two weeks and introduces them to a variety of health career options. The hope, of course, is that some of them will aspire to humanitarian service through the healing arts.
When Samano arrived on campus in the summer of 2007, he met Juan Carlos Belliard, PhD, MPH, vice president for community partnerships and diversity, and director of the Institute for Community Partnerships. The two soon hit it off and Belliard became a mentor to Samano, encouraging him to follow his dream.
When Samano returned to CMS his senior year, he had made up his mind to become a physician. "Daniel turned into a young man," Principal Smith interjects. "He graduated at the top of his class in 2008 and was given the award of excellence by his teachers."
Belliard made a point of keeping in touch with Samano after he matriculated to La Sierra University for his undergraduate studies, and later when he entered LLUSM in 2012. It isn't much of a stretch to say that Belliard is one of his biggest supporters.
"Daniel's a trailblazer," Belliard asserts. "He's always made time to mentor others and has not forgotten where he came from and his responsibility to give back."
Romance was also in the making one fortuitous afternoon in 2013 as Samano waited in line to cross into Mexicali from Calexico. Much to his liking, the attractive young lady directly in front of him turned around to ask if he had any idea how much longer they were likely to wait.
Her name, it turns out, was Carolina Sandoval, and when Samano told her they would probably be there another hour-and-a-half, they struck up a conversation.
"I told her I was in medical school in California," Samano reports with a twinkle in his eye, "and she said she was studying psychology at Universidad Autonoma de Baja California in Mexicali, our mutual home town."
As the line and the conversation moved forward, Carolina mentioned that she has a cousin studying to be a nurse "on the other side," a term Mexicans often use to refer to the United States.
To their complete surprise, the cousin was one of Samano's former classmates from CMS. The serendipitous discovery surprised them both and put Carolina at ease. Samano warmed to the opportunity, and by the time they crossed the border, he had deftly gotten her contact information. A new reality was born in each of their lives and they married two years later on November 1, 2014.
Today, Carolina Samano works as a psychologist at the Institute for Behavioral Health in Redlands, while her husband gets ready for his next assignment, a family medicine residency with Kaiser Permanente in nearby Fontana.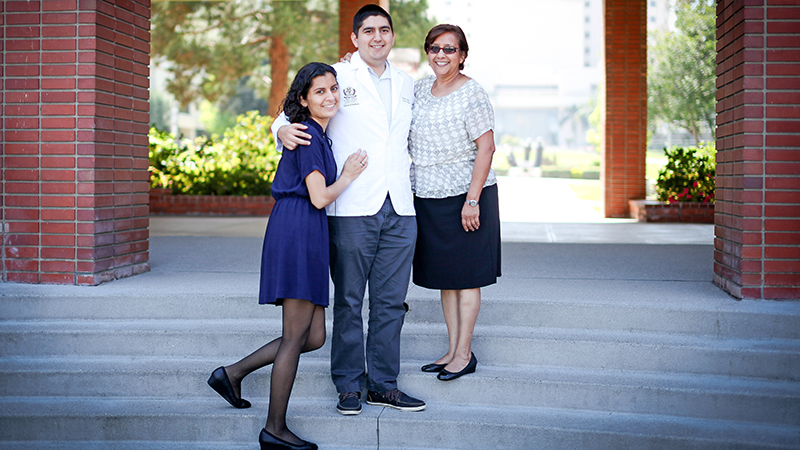 Daniel Samano gets a hug from his wife, Carolina, and his mother, Lupita Gomez
"All of us at the school are very proud of what this young man has accomplished," Principal Smith observes. "It is our prayer that God continues to bless him in every aspect of his life. We are truly honored by having had the privilege of contributing to his education. Our best wishes are with Danny."
J.C. Belliard recalls a field trip Samano took with the Si Se Puede group to the Social Action Community (SAC) Health System, an outreach clinic in San Bernardino. On the trip, Belliard asked Samano and his peers to visualize themselves at SAC, not as a patient or a student, but as a provider.
"Daniel is close to fulfilling that dream," Belliard says. "It's history in the making!"
He suggests there is more to come for Samano.
"His journey is not complete at Loma Linda University Health," Belliard reveals. "We hope to have him back as a faculty member. Imagine, he came to us as a high school student, and someday could be teaching future medical students on our campus!"
Principal Smith ends with a message for Samano: "¡Si se puede!"