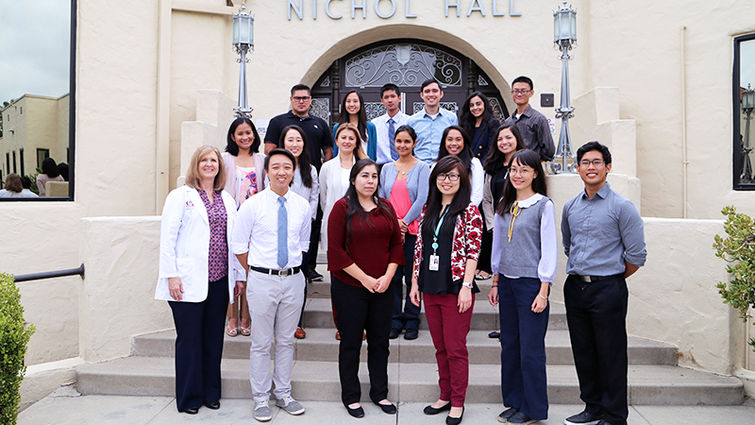 Approximately one-third of the students in Loma Linda University's clinical laboratory science program class of 2018 have signed up with Be The Match to become bone marrow donors and another third are seriously considering becoming donors, according to Leeza Esguerra, historian for the class.
The students' interest was piqued during an Immunohematology II lecture, according to Teri Ross, MS, MT(ASCP), SBB, instructor at the Loma Linda University School of Allied Health Professions.
Bone marrow transplants replace unhealthy bone marrow with healthy bone marrow, she said. Patients with life-threatening diseases such as severe aplastic anemia, leukemia, immune deficiency disorders and multiple myeloma may benefit from bone marrow transplants, Ross said.
Linda Buckert, BS, CLS, manager, HLA/histocompatibility lab and Beverly Lovejoy, BSN, RN, nurse coordinator, pediatric blood and marrow transplant/apheresis at Loma Linda University Children's Hospital, were guest lecturers for the class.
During the lecture, Lovejoy told the students that there are patients on the waiting list who are hoping to find a match. A bone marrow transplant could mean a cure for their disease, she said.
Leeza Esguerra said she had thought about becoming a donor after hearing a presentation from the Red Cross at St. Joseph Catholic Church in Placentia, California. However, she was uncertain about the process. "It seemed a bit scary," she said.
After attending the class session that covered bone marrow donation and matching, Esguerra signed up. "Learning about the details of bone marrow donation — what happens and how it happens — made me more confident," she said.
Before the lecture, Linda Buckert checked to see how many donors are compatible with her own HLA typing and discovered that she matched with just three donors on the global registry list. "This illustrates how rare it is to find a donor," she said.
The point was not lost on Esguerra. "If someone of the donor registry matches, it is a rare occasion," she said. "It is an honor to help someone in need. Imagine if one of your own family members became sick and needed bone marrow, what would you do?"
Teri Ross was pleased the students realized the great need for bone marrow donors, she said. "Often people say they will become a donor someday, but these very busy students stepped forward and were willing to join the registry—they jumped on it," she said.
"The class of 2018 is now challenging students in other programs in School of Allied Health Professions to join the registry," Ross said.
Information about bone marrow donation and how to join the bone marrow registry, Be The Match, is available here.