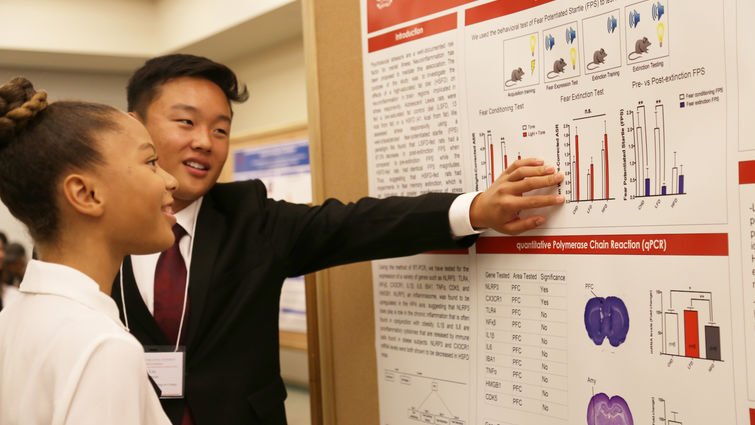 The Center for Health Disparities & Molecular Medicine at Loma Linda University Health is increasing access to science, medical and research fields for minority students in high school, undergraduate, graduate and medical students by offering an innovative summer program where collaboration and hands-on experience in translational research and career development come together. 
A total of 80 students participated in this year's summer programs, including the High School ABC Program, University Training Program (UTP), Medical Training Program (MTP) and Graduate Student IMSD Program. The sixth-week or nine-week program for some gave a unique opportunity for students of diverse backgrounds to co-mingle and co-exist both in and out of the lab. 
"Loma Linda University Health is probably the only institution to bring students from high school to doctoral academic backgrounds under a common programmatic umbrella that supports peer-mentoring, mentorship from renowned faculty, and have students participating in health equity and disparities research training" said Marino De Leon, PhD, director of the Center for Health Disparities and Molecular Medicine. 
Students are introduced to the fundamentals of writing scientific abstracts and expressing ideas innovatively for various publication use. The young researchers are encouraged to think critically and be skeptical of their work as they build their skillset in three pillars: verbal, theoretical and technical. 
"They have to have the technical and communication skills to contribute to a broader view in science and understand the best questions to ask," said William Pearce, PhD, professor of basic sciences at Loma Linda University School of Medicine. 
Students work collaboratively among all educational levels, mentored and guided by both faculty and graduate-level students. They are consistently reading scientific literature, discussing their lab results, developing self-efficacy and realizing the importance of biomedical research to address health disparities, De Leon said. 
The program is selective toward highly-motivated minority students with a deep passion for research. It's competitive, but offers those who participate the chance to grow as independent thinkers and even live on their own as first-time adults.
"It's a new experience for me being on my own and away from home," says Victor Campbell, a UTP participant and junior at Oakwood University in Huntsville, Alabama. "I've been put to the test, but have learned a lot about myself." 
It was both an exciting and nervous time for Karen Figueroa, a first-generation college graduate, who began her research journey in 2011 as a high school student. This was her seventh summer participating in the program but now as a UTP participant. 
"I've learned more through this research program than anywhere else," Figueroa said.
My writing has improved significantly and understanding various techniques has benefited my skillset greatly.
On average, 40 percent of students who participate in one of the Health Disparities programs go on to attend Loma Linda University to pursue a medical degree or higher graduate degree, says De Leon. 
Evelyn Sanchez-Hernandez completed her first year as a PhD student at Loma Linda University in cancer development and regenerative biology. She said she enjoyed the opportunity to mentor a younger generation of researchers and to collaborate on various experiments.
"It's rewarding to share knowledge with other students," Sanchez-Hernandez said. "Knowledge is an incredible gift."
Sanchez-Hernandez said there is a need for more women, especially Hispanic women in the field of research. 
De Leon encourages high school counselors and professors to identify young talent who have a passion for science and enjoy the collaboration of teamwork in a research setting. 
"We're always looking to grow our diverse cohort and invite students of all backgrounds to apply," De Leon said. 
According to Pearce, the ultimate goal is to help these students pursue their professional aspirations with the hope they return to their academic roots as professors, researchers and lecturers. 
We don't want to lose that talent.

- William Pearce