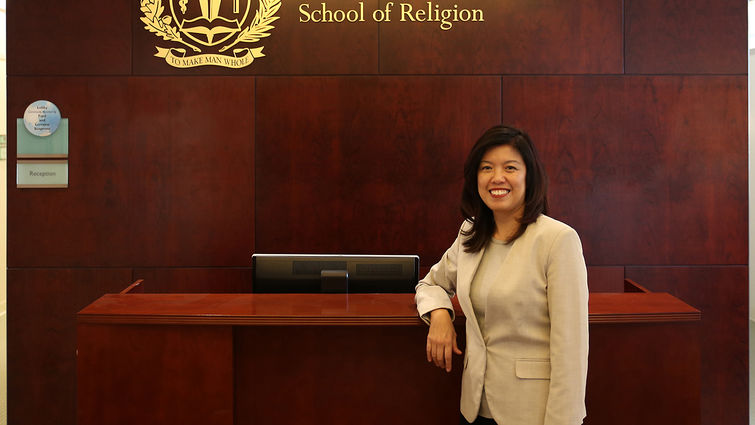 Loma Linda University School of Religion has enhanced its Master of Science in Chaplaincy degree to 108 quarter units (equivalent to 72 semester hours) to academically prepare students for full board certification as professional chaplains. The program is now accepting applicants for fall semester 2018.
This degree is a theological- and clinical-based master's program, and its curriculum deliberately incorporates the 31 best clinical practice competencies of the Association of Professional Chaplains and the Adventist Chaplaincy Institute.
"Chaplaincy is a special calling," said Angela H. Li, MA, MBA, BCC, program director. That was the case for her as a former small business owner and accountant who was considering the next phase of her life. "I didn't know what chaplaincy was," she said.
But one day Li experienced a strong impression to consider becoming a chaplain. Within a month, she was enrolled in Loma Linda University's MA in Clinical Ministry program (the forerunner of the Chaplaincy MS).
"Every single class, every single discussion strengthened, equipped and grew me," said Li of the master's program. She will next add to her resume a PhD in Practical Theology this May.
Chaplains bring spiritual care and healing in hospitals and other settings. Loma Linda University's program has the particular strength of sharing a campus with a world-recognized health system.
"Loma Linda is one of the best places to get your training as a clinical chaplain," said Ivan H. Omana, MDiv, BCC, BCPC, assistant director of Adventist Chaplaincy Ministries for the Seventh-day Adventist Church's North American Division.
Moreover, the MS in Chaplaincy degree prepares students to serve in diverse settings such as schools, corporations, sports teams and two branches of the military.
Loma Linda University School of Religion welcomes students from various denominations to study in its Chaplaincy MS program. For students of Adventist faith, Adventist Chaplaincy Ministries requires two years of church ministry post-graduation for endorsement because of the guiding philosophy that "All chaplains are pastors."   
As a new path in Southern California and in the Adventist denomination to full board certification in chaplaincy, the master's degree program creates greater visibility and opportunity for individuals to choose chaplaincy as a specialty of pastoral ministry.
"This is a very beautiful and meaningful career," program director Li said. "You must have the desire to listen to others and walk closely with God every day, every hour."
Learn more:
religion.llu.edu/academics/degrees/ms-chaplaincy
909-558-7478