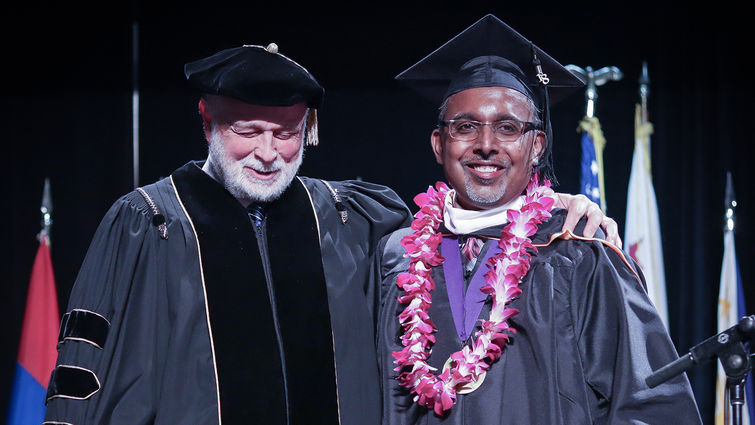 The School of Religion gave its annual President's Award to Bates D. Moses, MD, who graduated June 10 with a Master of Arts in Bioethics. The new degree makes him a third-time alumnus of Loma Linda University, having previously earned his Doctorate of Medicine (1999) and Clinical Laboratory Science bachelor's degree (1994) at LLU.
The palliative care specialist and author serves as physician director of bioethics for Kaiser Permanente Southern California and works with a team of 11 full-time Kaiser Permanente ethicists. Moses collaborates to review difficult medical cases, develop policy and procedures, and provide education on ethical care. He is also involved in collaborating with other regional organizations on these topics, among other roles.
In addition to his leadership, Moses practices with his palliative care team in delivering care for seriously ill hospital patients and supporting their loved ones. He authored the Tarascon Palliative Medicine Pocketbook and a journal article, written as part of his School of Religion studies, in The ASCO Post titled "Incorporating the 'Goals of Medicine' With the 'Goals of Care.'"
Moses prays that the wisdom he has gained in working with the School of Religion professors and his fellow students will allow him to serve others for years to come.
The value of Christian education was instilled in Moses by his parents, who worked hard to help him and his sister enjoy the quality of learning offered in Loma Linda after his family, native of Sri Lanka, immigrated to the area when the young Bates was less than 2 years old.