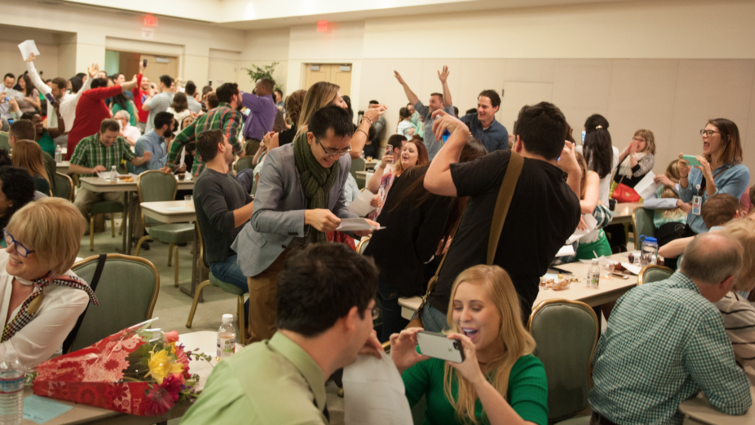 Surrounded by friends and family, 154 fourth-year students of Loma Linda University School of Medicine tore open envelopes at 9 a.m. today to find out where they would spend the next few years of their career.
After what many later said was the longest five-second countdown of their life, the months of waiting ended as each student opened an envelope to find one piece of paper informing them where they were headed to begin residency this summer. 
For much of the previous hour, the Wong Kerlee International Conference Center on the Loma Linda University Health campus had been abuzz with hundreds of people on hand for Match Day, a national day for the more than 150 medical schools in the U.S., held the third Friday of March, in which fourth-year medical students find out their residency. The students have gone to interviews around the country in previous months trying to find a match for a specialty, while ranking their preferences in hopes that hospital programs will grant their request. 
For students, Match Day is a nerve-wracking, festive morning. Various hospitals had representatives on hand, one of which sponsored a breakfast that began at 8 a.m. Some students laughed loudly, others were outwardly chill, while others huddled on couches in the lobby outside. A few spent much of the morning holding back tears.
Announcements were delivered by sponsoring organizations and associate deans. Tamara Shankel, MD, associate dean of clinical medicine, told the group that all 154 students matched, which was received with sustained applause and cheers. 
Then, at 8:45 a.m., the envelope distribution began. Fifteen minutes later, with everyone back in their seat across the packed conference center, and supporters lining the walls, the countdown began and the envelopes were unsealed.
A wave of shouts, whoops and slaps of high-fives unfolded across the room, creating a roar as many jumped and hugged each other in celebration. The moment was a release of long-held tension, allowing students to finally celebrate with classmates and friends. Families pressed in for group hugs and posed for pictures, with students holding up their match document next to ecstatic smiles.
"I was very happy. I got my first choice," said Sharmila Price, who is heading to Kettering Medical Center in Dayton, Ohio, to work as an internal medicine resident.
"It was kinda scary," Price said, "but I knew whatever happened God was going to take care of what was in the envelope."
Alvin Kennedy, who is headed to work as an anesthesiology resident at the University of Maryland Medical Center, said he was happy about what his match paper revealed. "I'm very excited, I'm going back home," he exclaimed. He had just called his mom in Maryland who was also happy for the news.
Roger Hadley, MD, dean of the School of Medicine, took his own pictures throughout the proceedings and met with students and parents. 
"This is outstanding," he said. "Everyone's got a job. Not all of them got their first choice, but everyone's got a job."
Hadley, who graduated from the School of Medicine in 1974, said the job of the students now is to go be the best resident they can be. 
"Their progress as physicians will now be determined on how much they put into their residency," Hadley said. "We've given them the tools — now it's up to them. They've got to go in every day and think, 'How can I be a better, more competent doctor?'"
Many students brought family members for Match Day.
Lizzy Kim, who was joined this morning by her sister and parents, is headed to Orlando to work as an emergency department resident at Florida Hospital. "I'm stoked," she said.
Alex Eller, who found out he is headed to Kaiser Orange County, was joined by his father, fiancée, and his grandfather, Byron Eller, MD, a retired anesthesiologist who graduated from the School of Medicine in 1952.
Eller, the fourth-year medical student, said he's glad to now know where he will move after getting married following graduation. "It's a really good program, and it's by the ocean, which doesn't hurt," he said.
For his grandfather, who is 95 years old, seeing the event was a new experience.
"We didn't have a match day back then," the elder Eller said. "You just told them where you wanted to go and you went."