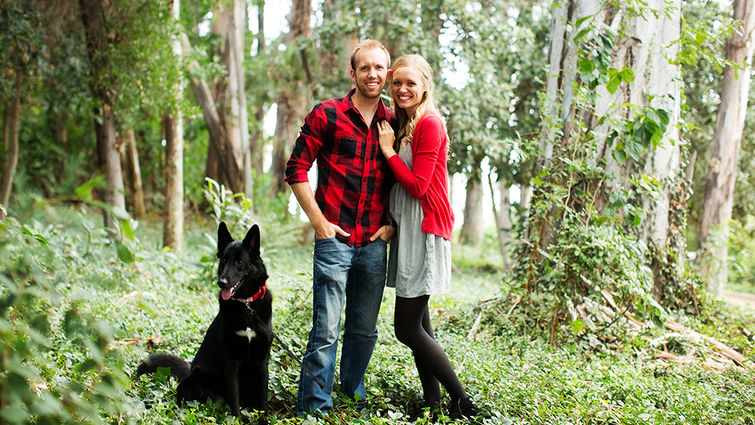 Andrew R. Crofton, PhD, assistant professor of anatomy and physiology in the department of physical therapy at Adventist University of Health Sciences in Orlando, Florida, has been named the 2016 winner of the President's Award from the Faculty of Graduate Studies at Loma Linda University (LLU). Crofton received the award during Friday, May 27 ceremonies in Loma Linda.
After receiving a bachelor of arts degree in chemistry and religion from St. Olaf College in 2009, Crofton matriculated to LLU to pursue a master of science in anatomy. In 2010, he transitioned into the doctoral program in anatomy and soon carved a wide swath across campus, distinguishing himself not only for his academic and research accomplishments, but also for his extracurricular activities.
During his studies at Loma Linda University, Crofton:
• Published eight articles in peer-reviewed publications (two more are awaiting review)
• Received four patents on his research inventions
• Contributed one book chapter
• Contributed to 26 posters or abstracts of research studies
• Delivered 16 lectures and seminar papers
• Co-authored peer-reviewed manuscripts for 26 journals with Wolff Kirsch, MD, director of the Neurosurgery Center for Research, Training and Education
• Co-authored six grant applications with Wolff Kirsch, MD
• Co-authored an NIH grant for $225,000 with Wolff Kirsch, MD, on chitosan and bladder cancer, the subject of his dissertation
• Tutored medical and dental students
• Taught nurse anesthesia and physician assistant students in the anatomy cadaver laboratory
• Won 1st prize in the poster competition at the 2011 Annual Postgraduate Convention
• Won 1st prize in the poster competition at the 16th annual Basic Sciences Research Symposium in 2013
• Served as a member of the Basic Sciences Admissions Committee
• Served as a member of the School of Medicine Student Technology Committee
• Served as President of the Basic Sciences Student Council
• Played a major role in implementing a tablet-learning program at the School of Medicine
• Helped organize the first St. Baldrick's Foundation head-shaving fundraiser on the Loma Linda University campus to fight pediatric cancer
• Served as judge for the K-12 Inland Science and Engineering Fair for two years
• Assisted Re:Live Ministries in a 2011 tornado clean-up project in Joplin, Missouri
• Inspired Redlands High School students to consider scientific careers through annual presentations of his exciting biomedical research
• Played saxophone for the Basic Sciences Christmas party
Crofton is very grateful for the opportunities afforded him at Loma Linda University.
"My personal vocation of serving others through medicine was tightly aligned with the mission of LLU," he observes, "enabling me to serve others in a number of meaningful ways." He cites the opportunity to tutor other students as something that was particularly beneficial to his own learning.
"I was still taking gross anatomy when I started tutoring medical students in gross anatomy," he recalls, "and that helped me develop tremendously as a teacher, learner, and leader."
Crofton shares the unexpected story of how he became connected with the Neurosurgery Center for Research, Training and Education.
"I was talking to a classmate about not having found the right 'fit' for me yet," he discloses. "He wanted to be a neurosurgeon and thought Dr. Kirsch could really help him meet his goal, since Dr. Kirsch is a highly successful neurosurgeon. However, the classmate was nervous to meet with Dr. Kirsch. Since I had no interest in being a neurosurgeon, I told my classmate I would meet with Dr. Kirsch to find out if he was intimidating and to gain insight into what he looks for in a student.
"When I called Dr. Kirsch's office, I was floored when his assistant, Jackie Knecht, said he was free at that moment and willing to meet with me," Crofton continues. "I told my classmate to wish me luck and hightailed my way up to his office. After introductions to Dr. Kirsch's current graduate students, lab manager, technician, and executive assistant, Dr. Kirsch asked me what I wanted in life.
"Still half out of breath, I told him, in between gasps for air, that I was interested in becoming a trauma surgeon or ER physician from my time spent working as an EMT in college," Crofton recalls. "This got Dr. Kirsch more excited than a 5-year-old entering Disneyland for the first time. He proceeded to tell me about his work with a biopolymer called chitosan. He said his lab had been working on developing chitosan as a hemostatic agent to stop bleeding in surgery and traumas. I also became excited after hearing about this project, and within minutes he asked me if I wanted to work in his lab. Without even hesitating, I accepted the job and never looked back!"
Fortunately, Crofton's friend had a similar experience and was also offered a job in Kirsch's lab the next day. Crofton says the atmosphere was electrifying.
"I fell in love with research," he shares. "My appetite for it became insatiable. I thought it was so interesting learning every last detail about the diseases and problems Dr. Kirsch was working on in his lab. I also loved when we would make a discovery that nobody else in the world knew about.
"Needless to say," he adds, "I had caught 'the research bug.' After talking to Dr. Kirsch in detail about what it was like to be a physician and considering the impact one individual can have as a clinician versus as a researcher, I concluded that becoming a research scientist and medical educator would allow me to have the greatest impact on the local, national, and international communities. Thus, I applied for the PhD program and have never second-guessed my decision to pursue research and education instead of clinical medicine."  
Crofton maintains that Kirsch was a once-in-a-lifetime outstanding mentor.
"Dr. Kirsch is one of the smartest and hardest-working people I've ever met," he asserts. "His illustrious career as a world-renowned neurosurgeon and prolific inventor is an example of this. He took me under his wing and treated me as an equal from Day One.
"As such," Crofton continues, "he gave me great responsibility, which motivated me to work harder than I ever had before and to develop significant leadership abilities. This led me to accomplish a tremendous amount during my time in graduate school. I was able to contribute in meaningful ways to a diverse array of projects in Dr. Kirsch's lab, which made me a more well-rounded scientist."
Crofton also commends Kirsch for connecting him to the larger research community.
"The high-impact nature of the projects I worked on in Dr. Kirsch's lab provided me with many opportunities to share my research with other scientists locally and nationally," he adds. "Since Dr. Kirsch incorporated me into every aspect of his daily routine, I was able to develop personal relationships with a number of world-renowned scientists and physicians with whom he has relationships. This allowed me to learn from them and lean on them for help. Through the mentorship of Dr. Kirsch and a number of other professors at LLU and other universities, I was able to learn how to put together high-quality posters and PowerPoint presentations, which resulted in a number of awards."
For his part, Kirsch pays tribute to Crofton by quoting legendary American Transcendentalist poet Ralph Waldo Emerson:
"Enthusiasm is one of the most powerful engines of success," Emerson observed. "When you do a thing, do it with all your might. Put your whole soul into it. Stamp it with your own personality. Be active, be energetic, be enthusiastic and faithful, and you will accomplish your object. Nothing great was ever achieved without enthusiasm."
 
Kirsch concluded by noting that Crofton personifies the virtues Emerson extolled. "He is one of the finest young scientists I have ever been privileged to know."
Since moving to Florida, Crofton and his nurse anesthetist wife, Rhea Eva Crofton, CRNA, an LLU alumnus herself, have enjoyed exploring the outdoors in the Sunshine State, which he describes as having "one of the best state park systems in the country." He notes that they have seen alligators, bald eagles, and manatees.
"My education at LLU couldn't have prepared me better to pursue my goals," he exudes. "I feel that I am a very competent anatomist and research scientist due to my time at LLU. My professional mentor, Dr. Kirsch, not only trained me to perform sound scientific research, but also taught me an immense amount about business, writing and submitting grants, peer-reviewing journal articles, filing patents, translating basic science results to useful clinical tools, and providing excellent mentorship. Finally, the LLU anatomy department provided me with excellent training in teaching that will serve me well in academia.
"God put me in a place where I could grow and flourish in ways I had never even dreamed," he concludes.