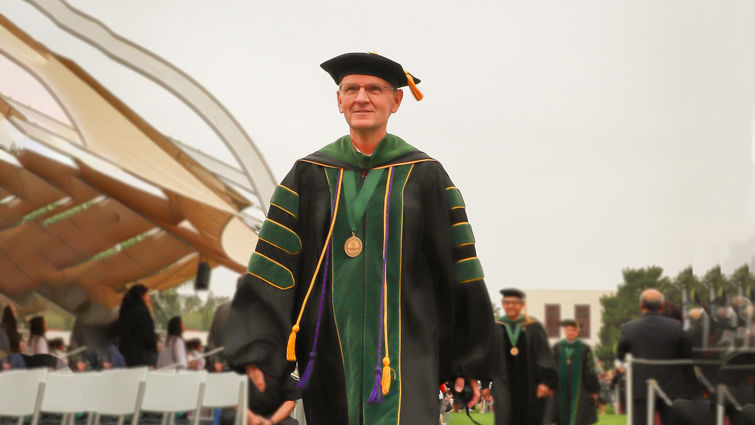 Loma Linda University School of Medicine Dean Roger Hadley, MD, announced today that he will be stepping down as dean of the school and executive vice president for Medical Affairs on July 1 of this year. Hadley will continue to be fully committed to his tenacious pursuit to maximize efficiency, improve access and maintain quality healthcare and education until he departs his role this summer.
After his tenure, Hadley will continue to influence medical education in the nation as a recently-elected member of the Accreditation Council for Graduate Medical Education Board of Directors.
Richard Hart, MD, DrPH, president of Loma Linda University Health, said Hadley has displayed exemplary leadership and inspiration for the university, as well as the field of health professions as a whole.
"Dr. Hadley and I have been talking about his desire for this transition for several years, and it is with deep appreciation that this campus now recognizes the incredible leadership he has provided for decades, including 16 years as dean," Hart said. "He will return to his first love of caring for patients and will continue to practice urology at Loma Linda University Health in July."
Kerry Heinrich, JD, CEO of Loma Linda University Medical Center, said, "As I reflect on my opportunities to work alongside Roger Hadley, I think of a leader who always represents the very best of our mission. He works tirelessly to ensure that each patient's needs are served with excellence and compassion every day. Dr. Hadley has done much to enhance the processes that have led to a better patient flow within the Medical Center and decreased length of stays for our patients. I am so happy that he will continue to be a part of our healthcare ministry as he returns full-time to his urology practice. From the bottom of my heart, I thank Dr. Hadley for his excellence and commitment to the values we share." 
Ricardo Peverini, MD, senior vice president for clinical faculty at Loma Linda University's Faculty Medical Group, said, "During his tenure as Dean, Dr. Hadley has promoted a clear vision for Loma Linda University's School of Medicine. He has consistently lived his commitment to that vision, working tirelessly to strengthen the school's reputation as one of the premier academic and healthcare delivery institutions. He has led a remarkable growth in the clinical faculty and has served as the system's chief medical officer. Undoubtedly, his greatest love is for each of the many students he has mentored through the years. We will certainly miss his daily presence in the dean's office, but we are so pleased that he is returning to his first love — the practice of urology here at Loma Linda University Health."
"It has been a privilege to serve in these positions for the past 16 years," Hadley said. "I am very grateful to the School of Medicine's administrative team, faculty, department chairs, Loma Linda University Health and medical center leadership for the opportunity to serve our students, patients, staff and faculty.
"It has been a true joy to collaborate and work with all of you."