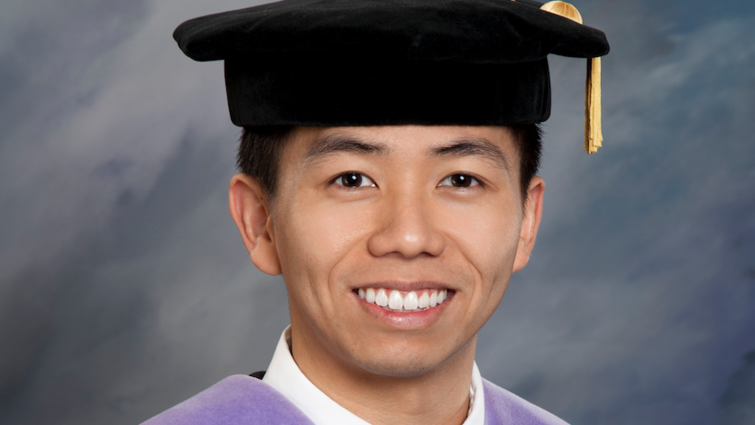 Michael Siy was awarded the Loma Linda University School of Dentistry President's Award at the school's senior banquet May 16.
The President's Award was the latest honor for the exceptional dentist. Last October, Siy received the Terry Tanaka Award from the Academy of Dentistry International for his volunteer work.
Loma Linda University honors one student from each school every year with the award, signifying high scholastic achievement and service in the student community, within the framework of Christian commitment.
Siy was an officer on the School of Dentistry's Student Government council and often represented the school at national ADI events. He was also editor of The Explorer student newspaper and a teaching assistant, while consistently making the Dean's list for academic excellence.
Siy lives the university's values of compassion, integrity and excellence before entering the school. While at University of California, San Diego, he was resident advisor and a teacher's assistant. He was on UCSD's Academic Integrity Review Board, in the Pre-Dental Society, tutored K-12 students and carried out research in Beijing.
UCSD awarded Siy the St. Agnes Service Guild scholarship, Alumni Leadership Scholarship and Provost Honors.
After UCSD, he taught migrant and Native American students and was a dental volunteer and Tagalog translator on the Navy's USNS Mercy, which qualified him for a four-year dental scholarship. Additionally, for four years Siy volunteered with the Tzu Chi Medical Team, which holds free medical clinics for underprivileged people in California's Central Valley.
The middle child among five boys, Siy grew up in Fresno, California. When he was 10, his parents temporarily moved to the Philippines. While attending a private Christian school there he was introduced to Christianity and after returning to the United States he committed himself to serving Jesus.
It was the repair of a chipped tooth that led Dr. Siy to become a dentist. That incident lit in him a desire to study dentistry and inspired him to help others as that dentist had helped him. 
Siy says it was Loma Linda University's Christian environment and commitment to service drew him to the university.