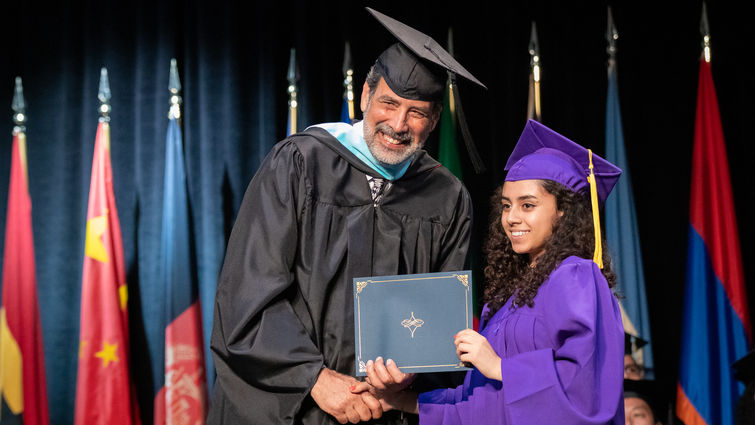 Eighty-four students received medical certificates from San Manuel Gateway College on June 17 in an evening ceremony held at the Loma Linda University Drayson Center.
Donned in robes and caps, 17 medical assistant, 3 pharmacy and 10 surgical technician, 9 community health worker, and 45 clinical community health worker graduates received their certificates. The ceremony concluded Loma Linda University's 2019 Commencement season of nine total ceremonies.
San Manuel Gateway College is based in Loma Linda University Health's San Bernardino campus. The college opened its doors in fall 2016 and graduated its first class in June 2017. It was established to educate young people in the Inland Empire beyond high school, to empower them to serve their communities by working in healthcare professions.
The first of its kind in the United States, San Manuel Gateway College integrates hands-on healthcare certificate programs with clinical instruction. Students train with and are mentored by Loma Linda University Health faculty, graduate students and medical residents through the SAC Health System in San Bernardino and other partners.
The college's executive director, Arwyn Wild, MA, welcomed the class of 2019, their friends and their families with a warm smile and noted that the graduating class size has doubled since 2018.
After the awarding of the certificates, representatives from the San Manuel Band of Indians concluded the ceremony with congratulatory remarks.
Before the recessional, graduates recited in unison the San Manuel Gateway College pledge: 
Live a life that is balanced mentally, physically, and spiritually
Always be honest and truthful
Be respectful of diversity
Dedicate ourselves to providing the best possible care to our clients and patients
Continually improve our knowledge and skills for the benefit of peers and the community we serve
Be an active participant within the community in order to benefit the health and wellbeing of those around us
Build meaningful relationships in our everyday lives