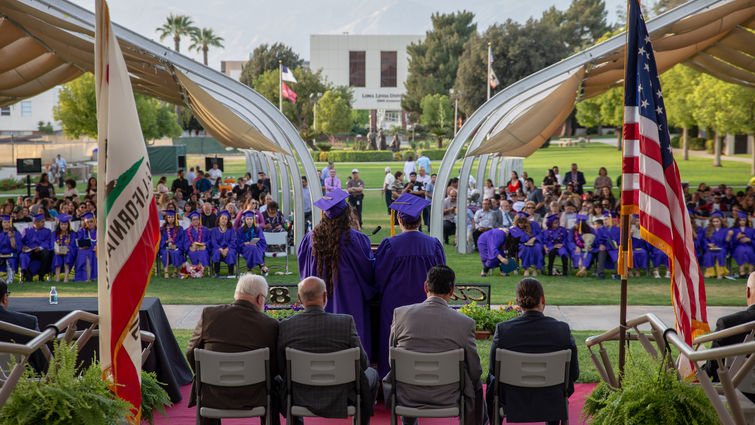 Forty-two students graduated from San Manuel Gateway College on June 14 in a ceremony that was the college's first commencement held on the main campus of Loma Linda University.
The evening ceremony celebrated the achievements of 16 medical assistant, 3 pharmacy technician, 21 community health worker, and 2 clinical community health worker graduates. The ceremony wrapped up Loma Linda University's 2018 Commencement season of nine total ceremonies.
San Manuel Gateway College is based in Loma Linda University Health's San Bernardino campus. The college opened its doors in fall 2016 and graduated its first class in June 2017. It was established to educate young people in the Inland Empire beyond high school, to empower them to serve their communities by working in healthcare professions.
The first of its kind in the United States, San Manuel Gateway College integrates hands-on healthcare certificate programs with clinical instruction. Students train with and are mentored by Loma Linda University Health faculty, graduate students and medical residents through the SAC Health System in San Bernardino and other partners.
At yesterday's ceremony, graduates wore robes and mortarboards in eggplant — the college's color. Even audience members and invited guests showed their support to the graduating class by accessorizing their outfits in shades of purple. Moreover, graduates were given two plum-colored carnations to present as a symbol of gratitude to those who have helped them most in their journey.
Do you have a dream?Chaplain Saul Barcelo
The college's executive director, Arwyn Wild, MA, welcomed the class of 2018, their friends and their families with a wide smile and warm words.
In his address, commencement speaker Saul Barcelo, MA, chaplain at Loma Linda University Children's Hospital, asked the graduating class "Do you have a dream?" To this the graduates responded: "Yes!" He reiterated, "Do you have a dream?" "Yes!" they roared in unison again.
Barcelo encouraged the graduates to make their dream bigger than the certificate they were about to receive and advised them that their dreams must always be greater than any challenge they may face.
Moments before the conferring of the certificates, Richard H. Hart, MD, DrPH, president of Loma Linda University, recounted to the graduates a meeting he had with the very first San Manuel Gateway College students, about two years prior. At that time, he emphasized to the group of students that their genetic code was more important than their zip code. 
"That is a critical lesson for you today, graduates," Hart said. "What you have in you is more important than where you come from."  
He noted that achievements come with hard work and dedication, but to truly succeed in life they will need to dream big, have a sense of humor and be resilient.
After citing the authority vested in him by the State of California and the Board of Trustees of Loma Linda University Health, Hart declared, "It is our privilege to have you as the last group of 2018 graduates from Loma Linda University. Welcome to the family."