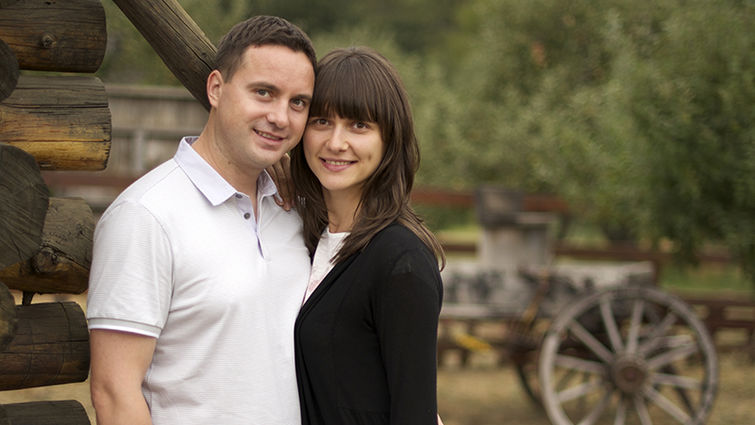 The violent overthrow of communism that swept his native Romania in 1989 turned out to be less of a revolutionary factor for the man who would be named the 2016 President's Award winner from Loma Linda University School of Religion than an event that happened two years later in 1991.
That second event—a series of Bible studies from a Seventh-day Adventist neighbor—quietly and unexpectedly transformed the life of then-12-year-old Nelu Nedelea.
"I fell in love with the idea of the New Earth," he recalls, contrasting the brokenness of the present world with the grandeur and majesty foretold in the final chapter of Revelation.
At the age of 13, Nedelea became the first member of his family to be baptized into the Seventh-day Adventist Church. "That was the beginning of my relationship with God," he notes. The pastor who baptized him told Nedelea to set high goals for his life. The idea resonated with the boy who had grown up without a motivated male role model.
"My father was an alcoholic," he discloses. "My parents didn't finish high school, but my mom was very happy about my baptism. We had a Bible in our home and she always found a refuge in the Bible and in prayer."
His mother had been an admirer of Adventists for a long time before Nedelea's baptism.
"Mom looked up to Adventists," he reveals, "because they were better educated than the average Romanians, had better-behaved children, and made more money."
Nedelea's enthusiasm for his new faith was contagious. Over time, his mother and all three of his siblings joined the church.
One New Year's Eve while he was still in high school, Nedelea attended a celebration at church where he was given a card with the text of Deuteronomy 2:3 on it. The New American Standard Bible translates the verse as, "You have circled this mountain long enough. Now turn north . . ."
Puzzled, he wondered if the cryptic statement might be some kind of sign from God. But if so, whatever could it mean?
The first of two answers came to light a short while later when he began to feel the call of God on his life. To become a minister, he would need to attend the Romanian Adventist Theological Seminary. To Nedelea's surprise, it was based in Ilfov, a city located an hour-and-40 minutes northeast of his hometown of Alexandria. Was this what God had meant?
After graduating from high school, Nedelea—who had originally planned on becoming a lawyer—applied to the seminary, was accepted, and left home to study. He was there in Ilfov when he learned that his father had made a very important decision.
"He had diabetes," Nedelea remembers, "and was in very poor health. One day, he decided to study the Bible and pray and become a Christian. I was in the first year of the seminary and I went home to see his baptism."
As he journey home for the baptism, Nedelea had no idea it would be the last time he would see his father alive.
"I had one day with him," he shares. "Twenty-four hours. We had a beautiful time together celebrating his new life. That Saturday night, he went into a coma and died three days later. I believe God gave dad time to give his life to Jesus. He died a saint."
Two months after graduating from the seminary, Nedelea was assigned to pastor six local churches. He didn't know it at the time, but God had another application of the "turn north" motif in mind. He soon found out.
The second divine answer came on January 20, 2001—a date Nedelea will never forget—when he was sent to conduct a series of meetings in a city about four hours to the north.
"Iasi is a beautiful university city," he shares with a smile. "I saw a beautiful girl at the church there, and wanted to talk to her."
The young woman's allure inspired him, but despite his strong desire to get acquainted, the opportunity never arose. At the end of the meetings, a disheartened Nedelea hailed a taxi with his roommate to the place they were staying. Providentially, just as the cab started to pull away from the curb, two young women hailed the driver to see if there might be room for them. It had started raining and they didn't want to get wet.
To Nedelea's complete delight, one of them was the young woman he had seen in church. Suddenly, he remembered the admonition to turn north. Here he was in city far north of his home talking to the woman of his dreams. Was God somehow involved?
He learned that her name was Olivia, that she was a student in Iasi, and that she was cordial and friendly. But when the ride came to an end, he didn't feel comfortable asking for her phone number.
Once again, God had his back. As Nedelea and his friend started for home the next day, their car unexpectedly broke down. Ordinarily, that's a bad thing, but when he learned it would take two more days for the car to be repaired, Nedelea's pulse raced. Especially when he learned that the church had an activity planned that very evening for the young people. Would she be there?
He had no idea, but he formulated a plan just in case. Nedelea could hardly contain his joy when she walked in.
"After a long conversation, I tricked her into giving me her phone number," he confesses.
The trickery lay in the way he managed to make it look like the request was completely spontaneous rather than premeditated. In reality, however, he had it planned down to the smallest detail.
When the opportunity to ask for her number 'serendipitously arose,' Nedelea seemed unprepared. The only paper he could find was a package of Kleenex in his pocket. He feared that had he brought writing paper with him, she might have surmised he had planned the whole thing. Which, of course, he had.
"I didn't want to scare her," he explains with a devious grin.
The ploy worked. "I took it as a very good sign that she gave me two phone numbers," he beams. "I thought that meant she really wanted to hear from me!"
Apparently so. They were married three-and-a-half years later, and to this day, whenever he speaks her name, it rolls off his tongue in reverential tones.
In 2009, Nedelea was ordained to the Gospel ministry, but when his six-year contract with the Romanian conference ended that year, the couple emigrated to British Columbia.
"We were looking for a place that would give us more opportunities to grow personally, academically, and professionally," he explains. "After much prayer, we chose Canada."
Nedelea found work in construction and the couple learned English in just one year. But as time went on, it seemed his dream of continuing in ministry was going nowhere. In a moment of discouragement, he said to God, "Either get me into ministry or give me your blessing to move into some other line of work."
That very night, he got a phone call from the President of the British Columbia Conference of Seventh-day Adventists. Although unable to offer Nedelea a job right then, the president encouraged him to persist in believing that God would open the door at a later time.
"Three months later, I got a job pastoring two Canadian churches," Nedelea says with a smile. "They were wonderful people and it was a tremendous time in my ministry."
Fast-forward to 2016 and Nedelea just graduated with an MS degree in chaplaincy. The story of how he got from Canada to Loma Linda reveals divine direction once again. Only this time, God seemed to be saying, "Turn south."
"The conference wanted to invest in my education," he reveals. "They wanted me to consider a master's degree." The idea sounded great, but Nedelea wondered which degree to pursue.
The answer became clearer while attending a ministerial seminar in Monterey, California, in 2013. "A gentleman from Bermuda who attended the same presentation on chaplaincy service in the military gave me five or 10 reasons to consider a becoming a chaplain," he recalls. "He said chaplaincy offers better access to people in need than other ministries."
A short while later, on a visit to Southern California to see his brother, Nedelea stopped by Loma Linda University to check out the chaplaincy program. He met with Raelene Brower at the School of Religion, who encouraged him to apply. When he did, he was accepted.
Since he was still pastoring in British Columbia, Nedelea had a decision to make. Should he and Olivia pack up and move to California or continue to serve God in Canada?
"I prayed a lot with my wife," he says. "We fasted. I decided to rest and pray for at least one Sabbath. We had lots of things we would have to sell if we were supposed to move."
The following week, they held a garage sale and sold out in two short days. Suddenly, they had the money to move to Loma Linda.
"I paid for the first quarter," Nedelea remembers, "and then I applied for the mission leader scholarship and got it. That paid my whole tuition for the two-year program."
With his master's degree in hand, Nedelea is currently working on a one-year chaplaincy residency at Loma Linda University Medical Center.
"The program is structured so that I spend half my time in the hands-on chaplaincy rotation and the other half in healthcare leadership training," he notes. "It's really unique and a great opportunity. I'm taking my second management class at La Sierra University right now. I'm also taking the Six Sigma and Strengthsfinder courses. I am totally pleased!"
Olivia, meanwhile, has been busy as well, earning an MBA in health care while working for human resource management at Loma Linda University Medical Center.
Although he doesn't know where, Nedelea plans to work for an Adventist hospital in the future. "Wherever they open the door, I am willing to go," he says.
Overall, he is very happy with the education received at the School of Religion.
"Loma Linda is the place I found myself," he reports. "The school, the professors, Loma Linda as a whole. I give credit to my professors. They invite you into their homes and invest their time in you. It's safe to share your journey with them as well as your struggles.
"There's something special about Loma Linda," he continues. "It's God. I felt wanted and needed here. It was a safe environment for me to open up, to share my issues with my professors. They encouraged me to relax and find myself. Then they put me back together, only better. My wife says I'm different now."
Looking back, Nedelea is very happy that God led Olivia and himself to Loma Linda.
"Every step I have taken in this program has made me a better human being," he concludes.